Beijing has issued its first ever red smog alert, the most serious warning on a four-level warning system, as masked citizens who have to be outdoors gasp for air in a city whose atmosphere has reached tipping point. The red smog alert will last from 7:00 a.m. Tuesday to 12:00 p.m. Thursday.
Individuals with chronic illnesses, those with respiratory conditions such as asthma, young children, pregnant women, and elderly people have been urged by authorities to stay at home for the next three days with their windows closed.
A red smog alert means that China's Met Office has forecast more than three successive days of dangerously high atmospheric levels of pollution within the city. According to Chinese news agency Xinhuanet, there are four levels of alert in China – blue, yellow, orange and red – with red being the most severe warning.
Beijing's 22.5 million residents have been told to take red smog alert measures as atmospheric pollution levels reach tipping point.
Measures enforced to combat pollution
Schools across Beijing have been told to close, traffic has been reduced by half as private vehicles are restricted to travelling every other day, thousands of factories will have to adhere to a set of restrictions, outdoor operations of construction sites are suspended, and extra trains and buses will be made available so that commuters and other travelers who cannot drive their cars that day can get about.
Public authorities informed that 30 percent of all government cars will not be allowed to travel in the city.
---
---
The Beijing Municipal Environmental Protection Bureau has issued an online alert, which it says is to "protect public health and reduce levels of heavy air pollution."
Mashable quoted hotel employee Fan Jinglong who described the high pollution levels as 'really worrisome'. Jinglong said:
"We have no choice but to step up preventative measures like wearing a mask outdoors at all times."
On Monday, readings of PM2.5 particles rose towards 300 micrograms per cubic metre (µg/m3). Particulate (pollution) levels are forecast to continue climbing over the next couple of days, and then ease off when a cold front arrives on Thursday.
The upper safe level for tiny, poisonous particles published by WHO (World Health Organization) is 25 µg/m3, which means that Beijing's level of nearly 300 µg/m3 is about 7.5 times higher than the safety limit for human health.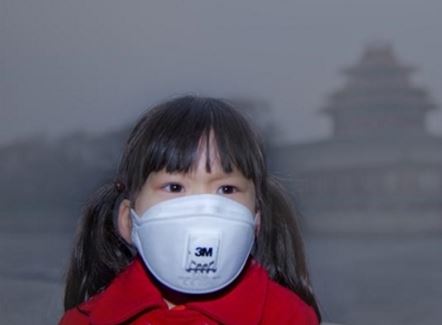 Young children should stay indoors, authorities said, as should those with chronic illnesses, respiratory conditions, and elderly people. (Image: greenpeace.org)
This is the second time in the past four weeks that Beijing, a mega-city with 22.5 million people (2.6 times the population of Greater London), has experienced a prolonged period of dense smog.
November's unusually cold weather pushed up the city's demand for power considerably, which in turn caused more smog.
Local newspapers today said convenience stores had reported much higher-than-average sales of air-filtering masks, as local residents prepare for the next three days.
Video – Beijing issues Red Smog Alert