Since 2005, MetaTrader 4 from MetaQuotes has become the world's most common online forex trading software, with numerous brokers adding it to their current trading tech portfolio. Although the MetaTrader 5 software was launched in 2010, we recommend the MT4 platform due to its technical complexity, demonstrated reliability, and widespread appeal across traders and brokers. In this MT4 review, I'll outline some of the key benefits of the MT4 platform.

Multi-lingual
The MT4 software and all of its data are available in various languages to users all over the world. There is a large number of languages to choose from.
Great User Experience
The interface is extremely user-friendly, allowing both new and seasoned users to trade this dynamic and unpredictable market with comfort and ease. This Forex tool is simple to use for traders of all skill levels. Mobile trading apps allow you to connect to the MetaTrader platform no matter where you are. The MT4 framework is available for download on your personal computer, tablet, or smartphone. Learn more about MT4 trader.
Several trading tools
The MT4 platform has an almost infinite number of trading tools, meaning that traders can conduct thorough evaluations and execute precise trades. For example, forex scanners and trading robots are great tools that can automate your trading process.
Heavily customizable
The MetaTrader 4 platform is completely customizable, allowing traders to customize the platform to their specific trading needs and activities. For instance, with the MT4 MQL language, you can create your own technical indicators and Expert Advisors.
The codes written for MT4 are incompatible with MT5, which is considered when deciding whether or not to switch platforms, which means that MT4 designed custom indicators aren't compatible with MT5.
Reliability
MT4 has everything a trader needs to be competitive on the market. This strong forex trading tool is extremely dependable, allowing for great results in Trading. Furthermore, it is simple to download and update, taking just a few minutes to complete. Traders have to fund their trading account after the software has been downloaded and installed before they can begin trading forex or other derivatives.
Supports and manages multiple accounts
MetaTrader 4 is great for skilled traders who manage multiple trading accounts. It helps you to handle various forex trading accounts easily. They have all of the trading resources you'll need to efficiently and professionally handle multiple accounts simultaneously.
Available on various mobile platforms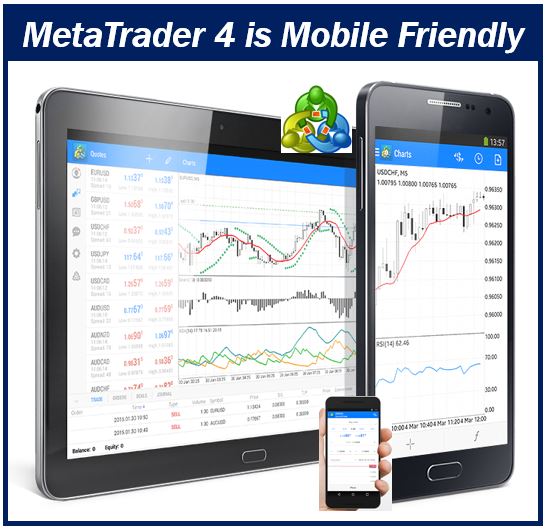 Advances in applications and technology have since made it possible to trade forex and other investment vehicles when on the move. The MT4 app is completely compliant with iOS mobile and Android devices, allowing you to stay up to date with recent business activity from the comfort of your mobile phone or tablet.
Advanced chart capabilities
Aside from user-friendliness and advanced trading features, the MT4 app also has advanced charting features. Traders will exchange and evaluate strategic aspects of the market at the same time using this sophisticated charting. To show your personal tastes, you can adjust the colors and designs of the charts and load pre-made templates. This makes MT4 charts easy to interpret because since you can delete features that you don't care for, you can concentrate on your own interests.
Expert Advisors
Expert Advisors are also supported on the MT4 framework for those who choose to automate their trades. There are tons of EAs to pick from, making this an ideal way to broaden your trading portfolio. Each EA is custom-made to meet the trader's specific needs. Investors may also build their own EAs and use the MT4 platform to manage them.
How forex scanners simplify your forex trading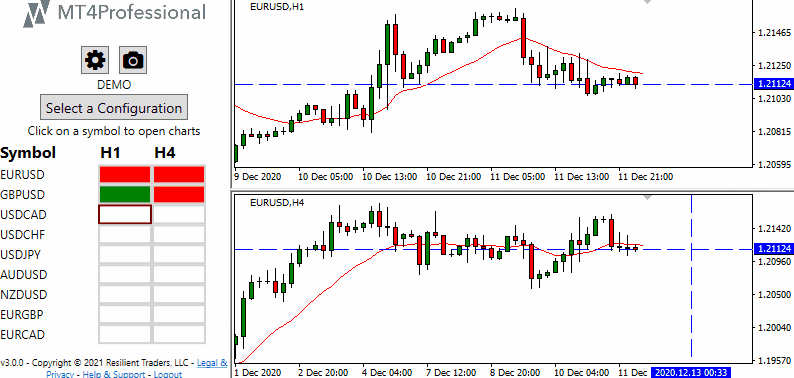 MT4 Market Scanner, like the MT4Professional, is software for the MT4 platform that searches for trading signals automatically based on user rules and indications through all symbols and timeframes available in the trading terminal.
A virtual forex market monitoring device for technical review of a trading plan is possible with the MT4Professional.
It streamlines the time-consuming process of identifying potential trades, saves endless hours of study time, and speeds up the response time to trading signals.
In a nutshell
The key benefit of using a forex scanner is that it allows for quick technical analysis and the search for trading patterns around the market using any symbols, time frames, or markers.
A trader who uses a forex scanner improves his trading quality by saving time on the tedious task of searching for trading possibilities through a variety of instruments and timeframes while continuously flipping from one chart to the next. In this search mode, the trader lacks the best time to open trade positions, resulting in a loss of future trading benefit.
Fast response to identifying such signals becomes critical, and without scanning automation, this becomes a difficult job.
Using a Forex scanner reduces the chances of missing a potentially lucrative transaction and losing money.
Final Thoughts
The MT4 platform, as previously said, has become an industry standard for a reason. It is the most sophisticated and reliable Forex trading platform on the market. Its robust features, flexibility, and numerous assortments of plugins make it a desirable option for both new and seasoned Forex traders.
---
Interesting related article: "What is Forex?"