Tesco is set to remove more than one-hundred more 'best before dates' from its fruit and vegetables. According to the British supermarket giant, customers say that removing best before dates helps reduce food waste.
The best before or best by date is a recommendation regarding when you should stop using a product. It is not, however, an expiration date, but rather an informal recommendation or guideline.
Best before research
Tesco says that according to recent research, 69% of consumers favour the idea of scrapping best before dates.
Fifty-three percent, in the same survey, believe that doing away with them also makes a difference. Additionally, it helps them keep 'perfectly good food for longer.'
A total of 2,010 people participated in the survey. Walnut Unlimited, an independent market research agency, carried out the study between 8th and 10th August, 2018.
A total of 116 additional products will no longer have best before dates, including asparagus, oranges, cabbages, and apples.
Earlier this year, Tesco removed the guidance dates from approximately seventy fruit and veg lines.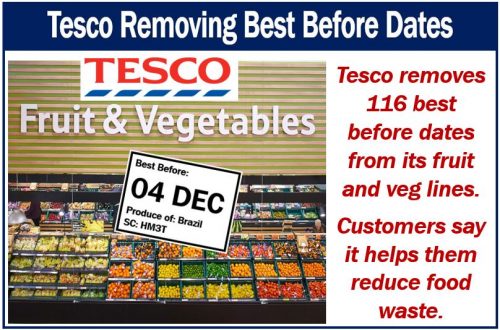 Reducing food waste
Mark Little, Tesco's Head of Food Waste Reduction, said:
"Removing best before dates is our way of making it easier for customers to reduce food waste at home and save money in the process."
"It's simply not right that food goes to waste and we're going to do everything we can to help."
Earlier this month, Dave Lewis, Tesco's CEO (Chief Executive Officer) called for global transparency on food waste. For the first time, twenty-seven of the retailer's largest suppliers published their food waste data.
Tesco says that its ultimate goal is to have no waste. Specifically, no waste of food that is safe for human consumption. Stores across the country are working with local community groups to redistribute leftover food.
Best before dates – other supermarkets
Other grocery retailers have also implemented their own drive to reduce food waste. In most cases, this includes removing the best before dates in some products.
In September 2018, Sainsbury's pledged its support for a new Food Waste Reduction Roadmap that IGD and Wrap developed.
According to Wrap, the Food Waste Reduction Roadmap and toolkit will:
– Allow organizations to measure and report consistently.
– Help food companies reduce waste in their operations and set targets. It will also help them reduce food waste in their supply chain and from customers.
– Help Britain deliver its part in Sustainable Development Goal 12.3.
In a press release, Sainsbury's wrote:
"Reducing food waste is at the top of our customers' shopping list. We're working with people all over Britain to find simple ways to cut food waste and save money in the process."
The sell by date was introduced in the 1950s by Marks & Spencer's storerooms. It was not until the 1970s that best by or best before dates appeared on the shelves.