Two researchers from Indiana University say that consumers are willing to pay a higher price for sustainably brewed beer. Their study will be good news for the growing number of breweries that are investing in practices to save energy.
More breweries are also striving to reduce their emissions of greenhouse gases such as CO2.
Sanya Carley and Lilian Yahng wrote about their study and findings in the journal PLOS One (citation below). First author Carley is an Associate Professor at the Indiana University (IU) Bloomington School of Public and Environmental Affair. Yahng is Director of Research and Development for IU's Center for Survey Research.
Drawing on survey research, the authors found that most beer drinkers in the US would be willing to pay more. Specifically, to pay more for sustainably brewed beer. They would, on average, pay approximately $1.30 extra per six-pack.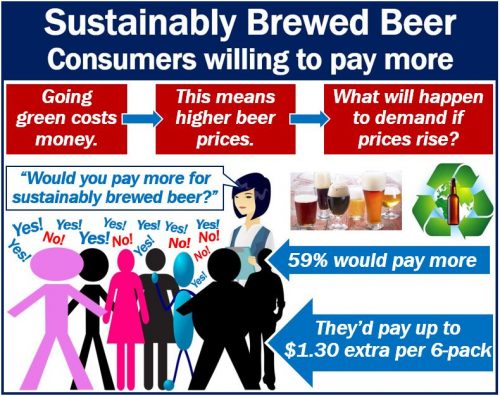 Sustainably brewed beer is financially feasible
Regarding sustainably brewed beer, Prof. Carley said:
"The takeaway for the brewing industry is that it is financially feasible to introduce energy-saving practices into the brewing process. Even if it ends up adding costs, more than half of all beer consumers are willing to absorb those extra costs."
The brewery sector is an energy-intensive industry that is growing rapidly. The researchers highlighted potential for sustainability and energy savings, especially in the craft-beer segment.
Craft beer segment growing fast
In the US, from 2005 to 2015, there was a 200% increase in the number of craft breweries in the US. Their production grew by twelve percent annually.
The industry could reduce its energy use considerably, which would subsequently mitigate its impact on climate change.
Climate change refers to the long-term shift in Earth's average temperatures as well as weather patterns. Global warming is similar to climate change. However, global warming only includes rising global temperatures. Climate change also includes falling temperatures.
Sustainably brewed beer – breweries taking measures
Some breweries have embraced renewable energy and added solar panels. They have also installed insulated brewing vessels, recaptured steam from the brewing process, and installed onsite wastewater treatment plants.
However, those kinds of measures cost money, specifically upfront investments which subsequently raise beer prices.
The researchers wanted to find out whether consumers were willing to pay more for sustainably brewed beer. They drew on a survey of more than one-thousand people who said they were beer drinkers. All of them were aged at least 21 years.
According to the survey, fifty-nine percent of survey respondents said they would be willing to pay more.
Beer drinkers who already paid more were the most likely to pay a premium for sustainability. They were also more likely to report lifestyle activities that were associated with the common good.
Recycling, composting, and volunteer work, for example, are activities that contribute to the common good. Purchasing locally-produced food and products is also in this category.
Type of beer didn't matter
The researchers said they found no significant correlation between the kind of beer consumers preferred and their willingness to pay more for sustainably brewed beer, after controlling for price differences. The authors said this finding was surprising.
Budweiser and Coors drinkers were as likely as craft beer drinkers to pay a premium. Coors and Budweiser are traditional American lagers.
Craft beer is a beer made in a non-mechanized, traditional way. In most cases, makers of craft beer are small breweries.
According to CraftBeer.com, there are many different craft beer styles. CraftBeer.com says:
"There are hundreds of different types of beer on the craft beer market, and it can be challenging to remember all of the different beer names and beer styles."
"The type of a beer is determined by many different things including ingredients, region of origin and brewing method among a variety of others."
With so many different types of beer on the market, brewers are going to have to find a new way to distinguish themselves. Standing out will become even harder in an increasingly crowded market.
Producing sustainably brewed beer could be a way for brewers to do just that. Prof. Carley says that that is what the research suggests.
Citation
"Willingness-to-pay for sustainable beer," Sanya Carley and Lilian Yahng. PLOS One 13(10): e0204917. Published: October 5, 2018. https://doi.org/10.1371/journal.pone.0204917.