Best Buy surprised investors by announcing a rise in first-quarter comparable sales and impressive earnings of $188 million, or 60 cents per share, on sales of $8.5 billion.
Shares in the electronic tech giant surged by 21.48% on Thursday, or by $10.83, closing at a record high of $61.25.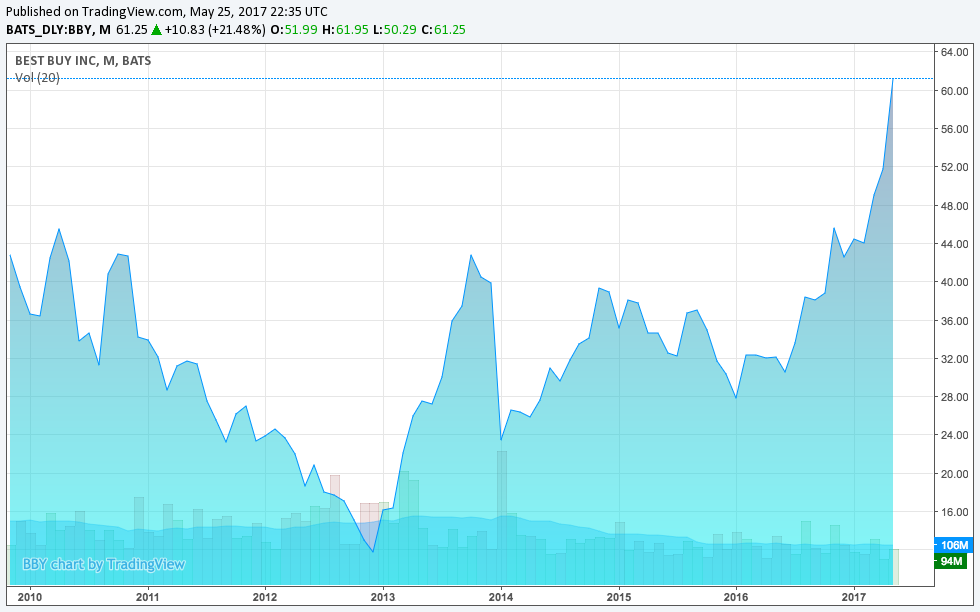 Best Buy benefited from increased spending by US homeowners, a result of improved labor market conditions.
First-quarter sales at stores open for at least a year rose by 1.6%, beating expectations of a 1.5% decline, according to Consensus Matrix.
Domestic revenue rose 1.1% compared to last year to $7.9 billion on comparable sales growth of 1.4%.
International revenue increased by 0.3% to $616 million. This increase was driven by comparable sales growth of 4.0% due to growth in both Canada and Mexico.
"We are pleased today to report strong top and bottom line results for the first quarter of fiscal 2018," said Hubert Joly, Best Buy chairman and CEO.
"Our Q1 performance reflects the strength of our customer value proposition and continued momentum in the execution of our strategy. I want to thank all our associates across the company for their hard work in delivering these results."
"Compared to our expectations going into the quarter, our revenue was higher due to strong performance in gaming, a better-than-expected result in mobile, and the improvement of overall sales trends due to the arrival of delayed federal tax refund checks," Joly said.
He added, "We are energized about our opportunities and the strategy we are pursuing. We believe we are uniquely positioned to help our customers in a meaningful way with our combination of multi-channel assets – including our online, store and in-home capabilities, and I love how our teams are mobilized to deliver on our mission and Build the New Blue."
The company said it expects sales to accelerate further in the second-quarter, with comparable sales expected to grow by 1.5-2.5% in the quarter, its second quarter guidance was updated to include revenue of between $8.6 billion and $8.7 billion.
Best Buy CFO Corie Barry commented, "Our second quarter guidance reflects the continuation of much of the positive category momentum we saw in the first quarter, as well as the increased level of growth investments included in our initial annual guidance. For the second quarter, we expect Enterprise comparable sales growth in the range of 1.5% to 2.5% and non-GAAP diluted EPS in the range of $0.57 to $0.62.3"