Company
BHP, formerly known as BHP Billiton
Headquarters
171 Collins Street, Melbourne, Victoria 3000 Australia (BHP Billiton Limited)
Neathouse Place, London, UK (BHP Billiton Plc)
CEO 
Andrew Mackenzie
Chairman 
Ken MacKenzie
Industry
Mining
Founder
Merger of Billiton Plc and Broken Hill Proprietary Company Limited (BHP)
Founded
2001
Type
Public
NYSE stock symbol
LSE: BLT, NYSE: BHP,NYSE: BBL, ASX: BHP and JSE: BIL
Revenue
US$43.638 billion (2018)
Operating income
US$17.561 billion (2018)
Net income
US$4.823 billion (2018)
Employees
62,000+ (2018)
Website
http://www.bhp.com
---
BHP, the biggest mining company globally according to revenue, is based in Melbourne, Australia. Its stocks are quoted on the London Stock Exchange (BLT), and also on the stock exchanges of New York (BHP), the Australian ASX (BHP) and Johannesburg (BIL).
It is a dual-listed company, i.e. the one company exists as BHP Billiton Limited on the Australian Securities Exchange, and as BHP Billiton Plc on the London Stock Exchange, where it is also a constituent of the FTSE 100 Index.
BHP Billiton was the result of a the merger of Anglo-Dutch Billiton plc and the Australian Broken Hill Proprietary Company Limited (BHP) in 2001.
In August 2014, the company had a market capitalization of about £41.5 billion ($69.5 billion). Also in August 2014, the mining giant said it would split into two separate publicly-listed companies.
History of the Billiton
The company's roots trace back to a tin mine at Belitung Island in Indonesia in 1851. Billiton's articles of association were approved by shareholders in the Groot Keizerhof hotel in The Hague, the Netherlands.
Part of Billiton's plant at Belitung island in Indonesia. (Photo: 1939)
Billiton went on to smelt tin and lead in the Netherlands, and later in the 1940s mined bauxite in Indonesia and Suriname. In the 1990s, its lead and tin smelter  in the Netherlands was closed down.
Several of Billiton's smelting and refining plants around the world have either been shut down or sold off over the last twenty years. Its Thaisarco plant in Phyket, Thailand, is still operating.
Gencor Ltd., based in Parktown, South Africa, bought Billiton's mining unit except for its downstream metal division in 1994. In 1997, Billiton was divested from Gencor. Today, Billiton is still one of Johannesburg Stock Exchange's largest listed companies by market capitalization.
Billiton Plc joined tha FTSE 100 index in the UK in 1997.
During the 1990s, Billiton Plc grew rapidly. Its portfolio included nickel operations in Colombia, Canada and Australia, base metals mines in South America, and aluminum smelters in South Africa. The company also started operations in Brazil.
History of BHP
BHP (Broken Hill Proprietary Company), known locally as "The Big Australian", was created two years after the mining industry took off in Broken Hill in 1883. From humble and turbulent beginnings, BHP would grow to become one of the largest mining companies in the world.
BHP had a love-hate relationship with Broken Hill, which came to an end in 1939.
With the help of George McCulloch, the Manager of Gipps Station, Mr. Rasp formed the Syndicate of Seven to see whether Broken Hill had enough ore to be commercially viable. Initially, tests proved disappointing and some syndicate members sold out.
The remaining members decided to float BHP in order to raise capital for further investigation. The company issued its first prospectus in 1885. Ore was found and the company thrived until the end of the 19th century.
BHP was at the forefront of transforming Australia from an agricultural to industrial country. However, squalid conditions for miners and their families eventually led to some serious confrontations with unions.
BHP was stricken with several strikes, an important one in 1892, and then another bitter one in 1909. After further confrontations and declines in the world prices of some ores, BHP looked to diversify, and opened its first steelworks in Newcastle in New South Wales in 1915.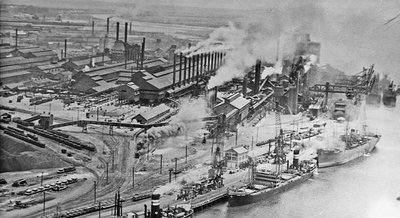 BHP's steelworks in Newcastle, NSW, Australia.
WWII meant demand for steel increased dramatically, while BHP's operations in Broken Hill declined as industrial relations worsened. The Great Strike of 1919, which lasted one-and-a-half years, persuaded BHP to focus more on its steelmaking and less on its mining activities.
In 1939, BHP closed down its operations at Broken Hill.
In the 1960s, BHP started petroleum exploration, with discoveries in Bass Strait. It then diversified into copper mining in Papua New Guinea (which did not go too well), Chile and Canada.
In 1999, its Newcastle steel operation closed down.
2001 – The BHP and Billiton merger
In 2001, BHP and Billiton merged, forming the BHP Billiton we know today. The 'flat products' steel business was divested in 2002, forming BHP Steel. In 2003, the company changed its name to BlueScope Steel.
In 2005, the company said it had agreed to buy WMC Resources, another mining business, for $7.3 billion. The acquisition was completed at the end of 2005.
In 2007, BHP Billiton tried to buy mining giant Rio Tinto Group, but eventually failed.
From 2008 to 2010 the company sold off or shut several mines in Australia, Canada and other countries.
In 2010 it acquired Athabasca Potash for $320 million. Analysts predict that by the end of this decade, the company will produce about 15% of all potash globally.
Also in 2010, BHP Billiton tried to buy Potash Corporation of Saskatchewan. Its $40 billion bid was turned down by the Canadian company. Eventually, BHP abandoned the quest after the Canadian government's opposition.
In February 2011, BHP paid Chesapeake Energy Corp. $4.75 billion for its Fayetteville shale assets in north central Arkansas, US.
In July 2011, it announced its intention to acquire shale natural gas company Petrohawk Energy for $12.1 billion in cash.
After announcing the shelving of a $20 billion copper and uranium project in South Australia, the company said it would stop approving any new expansion plans.
BHP Billiton de-merger
In August 2014, BHP Billiton announced that it would be splitting the business into two independent, publicly listed companies.
Regarding the demerger, BHP Billiton Chairman, Jac Nasser, said:
"For over a century, BHP Billiton has progressively reshaped its business to maintain its industry leadership. We believe the proposed demerger, if implemented, will accelerate the simplification of the Group's portfolio, provide investors with choice and unlock value in both companies. Our shareholders will have the opportunity to vote on this proposal once the necessary approvals are in place."
"The new company would be established with strong leadership. Its Chairman would be David Crawford who will retire from the BHP Billiton Board in November 2014. David is one of Australia's most respected company directors and chairmen. He has a deep understanding of the resources industry and nearly 20 years on the Board of BHP Billiton. The Board believes David's experience and skills make him the right person to guide the new company through its entry into the global resources sector."
"In addition, we are pleased to announce that Graham Kerr, our Chief Financial Officer, would assume the role of Chief Executive Officer and Brendan Harris, Head of Investor Relations, would be Chief Financial Officer, both based in Perth, Australia. The importance of South Africa to the new company would be reflected in the formation of its board management team, as well as its commitment to the country's economic development and transformation objectives."