The first bus that runs on gases generated from human poo and food waste has hit the road in England. Its creator, GENeco, a subsidiary of Wessex Water, says it provides a sustainable way of fueling public transport, while at the same time reducing emissions in today's polluted cities and towns.
The 'Bio-Bus', which can transport up to 40 seated passengers, runs on gas that is generated through the treatment of food waste that is unfit for human consumption and sewage. It produces fewer emissions than current diesel engines.
On a full tank generated at Bristol sewage treatment works, the vehicle can travel up to 300 kilometers (186 miles) on waste products that are both renewable and sustainable, the company says.
Earlier this week, GENeco became the first company in the country to start injecting food waste and sewage-sourced gas into the national gas grid network, and at the same time installed a refueling plant for the Bio-Bus.
General Manager of GENeco, Mohammed Saddiq said:
"Through treating sewage and food thats unfit for human consumption we're able to produce enough biomethane to provide a significant supply of gas to the national gas network that's capable of powering almost 8,500 homes as well as fuelling the Bio-Bus."
"Gas powered vehicles have an important role to play in improving air quality in UK cities, but the Bio-Bus goes further than that and is actually powered by people living in the local area, including quite possibly those on the bus itself. Using biomethane in this way not only provides a sustainable fuel, but also reduces our reliance on traditional fossil fuels."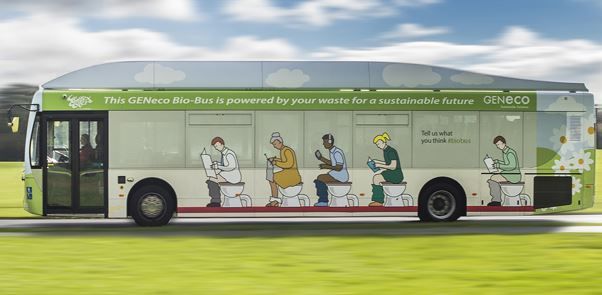 The Bio-Bus (Photo: GENeco)
The 300km full-tank trip consumes the annual waste produced of about five people. With the waste produced in one year from its 40 passengers, the bus could travel from John O'Groats to Lands End (from one end of the UK to the other), which by road is a distance of 1,409.484 km (881 miles).
Debut November 20, 2014
On November 20th, the first passengers got on board the Bio-Bus and commuted from Bristol to the City of Bath.
The bus is operated by Bath Bus Company, which said the vehicle is greener for the environment. It added that it was extremely happy to be using the Bio-Bus for its Bath-to-Bristol Airport commute route via South Bristol
Engineering director at Bath Bus Company, Colin Field, said:
"Up to 10,000 passengers are expected to travel on the A4 service in a month, which is available not only for airport travel, but also local journeys along the route through Saltford, Keynsham, Brislington, Knowle and Hengrove."
"As part of the RATP Dev UK group, this represents RATP Dev's involvement in the latest of a number of initiatives to gain experience of alternative fuels, with sister companies also experimenting with different alternatives. The information we gain, will be shared with other group companies across the UK and Europe."
"The timing of this initiative could not be more appropriate as we approach 2015 when the City of Bristol itself becomes European Green Capital. With so much attention being directed towards improving air quality generally, the public reaction to the appearance of this bus on a service between a World Heritage City and an airport will further focus on the potential for this particular fuel."
Bristol treats approximately 75 million cubic meters of sewage waste and 35,000 tonnes of food waste annually. About 17 million cubic meters of biomethane is generated annually at the Bristol plant through a process known as anaerobic digestion.
The generated gas can meet the power needs of 8,300 homes.
Charlotte Morton, chief executive of the Anaerobic Digestion & Bioresources Association (ADBA), said:
"GENecos Bio-Bus is an excellent demonstration of biomethane's unique benefits; decarbonising areas other renewables can't reach. A home generated green gas, biomethane is capable of replacing around 10% of the UKs domestic gas needs and is currently the only renewable fuel available for HGVs."
"The bus also clearly shows that human poo and our waste food are valuable resources. Food which is unsuitable for human consumption should be separately collected and recycled through anaerobic digestion into green gas and biofertilisers, not wasted in landfill sites or incinerators. The Bio-Bus will also help to demonstrate the true value of separate food waste collections, which are now obligatory in all other regions, to the English government."
The Bio-Bus project has received financial support from Scania, the manufacturer of the vehicle, as well as AIR Decker, Trant Grontmij, Dampney's Agri Environmental, CNG Services Ltd., and Roadgas.
Four years ago GENeco powered a car on biomethane generated during the sewage treatment process. The Bio-Bug was used in a number of trials to determine how viable it was to power a vehicle on sewage gas.
Video – The UK's first food and poo-powered bus