After weeks of stagnation, the price of Bitcoin has finally taken a new direction and is back to 5 digits. The leading coin passed the $10,000 mark with a bullish rebound which was followed by Ether which has outperformed in recent days.
A Bitcoin in great shape
The recent rise of Bitcoin (BTC) over the $10,000 mark has been gradual. The leading currency has been increasing in six consecutive days from $9,200 to $10,300 which is an increase of 13%.
The last crossing of this psychological resistance dates back to almost 6 weeks. This rise has been accompanied by a string of good news for the cryptocurrency industry in recent days.
From American banks being authorized to provide custodial services for cryptocurrencies and processing giants Mastercard and Visa accelerating their work on crypto-assets, these numerous advances may have had an effect on the price: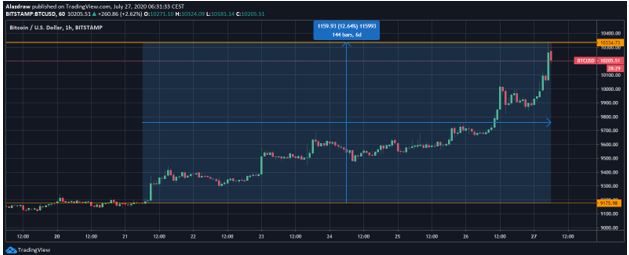 Many people want to know how to buy Bitcoin and other cryptocurrencies after all these bullish signals. You can find that kind of information on CryptoTips.eu.
When it comes to Ether (ETH), the performance of the second cryptocurrency on the market is even more impressive.
Driven by the general enthusiasm for Decentralized Finance (DeFi), ETH is returning to a level it had not reached for nearly 13 months:
As for other altcoins, the vast majority are suffering from this rise in Bitcoin and Ether. Only a handful of cryptocurrencies are following suit, but the general trend is currently down for the rest of the market, with prices falling in the range of -10% to -30%.
Are we on the cusp of a Bitcoin bull run?
According to a metric highlighted by the analysis firm Glassnode, this rise in the price of Bitcoin above $10,000 is not comparable to others that took place in 2020, especially with regard to the Bitcoin Days Destroyed.
The idea behind the "Bitcoin Days Destroyed (BDD)" indicator is to give more weight to BTCs that have not been used for a long time.
This metric is seen as an important alternative to the traditional volume of transactions, which may not accurately represent the economic activity of a network.
So, according to Glassnode's data, Bitcoin's previous jumps above $10,000 were correlated with an increase in this metric, meaning long-time holders were taking the opportunity to sell their BTCs.
According to this metric, therefore, long-time holders are not selling their BTC despite the current price increase. This, therefore, bodes well that they do not seem to be close to selling their assets yet, and that the rise could, therefore, continue in the coming days.
"Unlike the last two times Bitcoin hit $10,000, we haven't seen an increase in 'Bitcoin Days Destroyed' today," Glassnode said.
Bitcoin Days Destroyed a key Metric in price rise
This rise in the price of Bitcoin follows that of gold, whose price has just reached a new all-time high at nearly $1,945, exceeding its previous record of $1,930 reached in September 2011.
It remains to be seen whether Bitcoin will manage to establish solid support at $10,000 and whether this rise will only be temporary or not. Many are hoping that BTC will no longer drop below 5 digits, but it remains to be seen whether the coin will have a slight correction.
Video – Cryptocurrencies
---
---
Interesting related article: "What is a Cryptocurrency?"