A U.S. Magistrate Judge in Texas agreed with the US Securities and Exchange Commission (SEC) that Trendon Shavers' Bitcoin Ponzi scheme amounted to securities fraud. The SEC filed the lawsuit in July 2013 to determine whether it had the authority to regulate virtual currency transactions.
A Ponzi Scheme is an illegal, fraudulent investment operation. The Ponzi Schemer pays investors returns from new capital coming in from new investors, but tells them it is from profits earned. People are enticed by the promise of very high short-term returns. When the number of new investors drops, or the Ponzi Schemer runs off with the money, the victims are left penniless.
Mr. Shavers ran Bitcoin Savings and Trust from home in McKinney Texas. On September 18th, Magistrate Judge Amos L. Mazzant ordered Mr. Shavers and his company to pay a combined $40.7 million fine, he also banned him from taking part in any further illegal trading using the virtual currency.
How Shaver's is going to pay the penalty is unclear. According to court records, his lawyer withdrew from the civil case this week.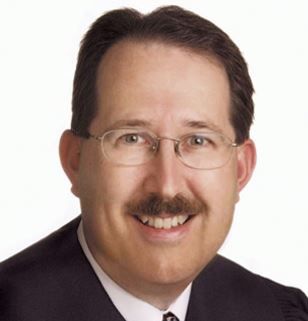 Magistrate Judge Amos L. Mazzant
Shaver deceived his clients
Shaver had persuaded people to invest in Bitcoins by making them believe he was trading the virtual currency against dollars, and bringing in a weekly profit of 10.65%. This was a lie. The Judge wrote that he used new investments to pay existing investors and his own personal expenses. Some of the money was spent on casino visits.
Shaver's had raised over 700,000 Bitcoins from investors. When his scheme collapsed in August 2012, the SEC claimed he made preferential payments to friends and longtime investors. The court concluded that investors lost more than 265,000 Bitcoins valued at $149 million.
Shaver's said he had loaned 202,000 Bitcoins to a borrower who ran off with the money. The judge, who did not believe this claim, said "Shaver's claims concerning the lending activity he supposedly undertook for BTCST are not possible based on the record evidence in this action."
This is the first court case in the United States to rule on whether the SEC is authorized to regulate virtual currency transactions.
Other high-profile Bitcoin lawsuits have been filed, including one against Charlie Shrem, former vice chairman of the Bitcoin Foundation. Mr. Shrem pleaded guilty to charges linked to the "Silk Road" illegal online bazaar. He admitted having worked with another individual (who also pleaded guilty) who ran an underground Bitcoin exchange.
In Florida, in a separate case, a man was charged with laundering money using Bitcoins. A state judge rejected his argument that he was not involved in any illegal activity because Bitcoin, being a digital currency, is not money.
In this latest case – U.S. Securities and Exchange Commission versus Shaver's et al, 13-cv-00416, U.S. District Court, Eastern District of Texas (Sherman) – Magistrate Judge Mazzant ruled that the investments sold by Shaver's "meet the definition of investment contract and, as such, are securities, giving the court jurisdiction over this case. Shaver's' blatant misuse and misrepresentations of the Bitcoin Savings and Trust investors' bitcoins, even as he publicly denied the Ponzi scheme" on online forums "evidences his intent to deceive, manipulate and defraud."
According to Shaver, no money was ever exchanged, given that Bitcoin is not classed as money, and therefore cannot be regulated by the SEC.