Company
BlackBerry Limited
Headquarters
2200 University Ave East Waterloo, Ontario, Canada
CEO
John S. Chen
CFO
James Yersh
Industry
Telecommunications
Founder
Mike Lazaridis and Douglas Fregin
Founded
1984 (as Research in Motion)
Type
Public
Stock symbol
TSX: BB, NASDAQ: BBRY
Revenue
$3.335 billion (2015)
Net loss
$(304) million (2015)
Loss per share
$(0.58) USD (2015)
Employees
6,225 (2015)
Website
http://us.blackberry.com
Corporation contact number:
(519) 888-7465
---
BlackBerry Limited, based in Waterloo, Ontario, Canada, is a telecommunications and wireless equipment firm best known for its smartphones and tablets. However, it is also a major provider of secure and high reliability software for Mobile Device Management and industrial applications.
The firm's shares are quoted in the Toronto Stock Exchange under the ticker BB, and Nasdaq with BBRY.
The company, which was originally called 'Research in Motion', sells hardware and software products globally. Among its corporate clients are several automakers, government agencies and industrial factories. Much of BlackBerry's business activities are not known by the general public.
Four years ago, its smartphones dominated the corporate market, with 43% of company executives and government officials using its mobile phones.
In recent years, Blackberry's market share of the mobile device market has plummeted, because of fierce competition from Google's Android brands as well as Apple's iPhone.
By the end of 2013, only 3.8% of US mobile phone users had a Blackberry device. In the personal (non-corporate) consumer market the company has fared better outside the United States.
In September 2013, BlackBerry and a consortium led by Fairfax Financial signed a letter of intent to acquire the Canadian company for $4.7 billion ($9 per a share). The consortium announced it was planning to take the firm private.
In November 2013, the consortium scuttled the planned deal and opted for a $1 billion cash injection. Most of BlackBerry's remaining value lies in its patent portfolio, which is said to be worth from $2 billion to $3 billion.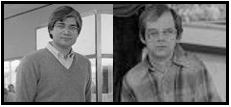 BlackBerry founders, Mike Lazaridis (left) and Douglas Fregin, in 1984.
History
Mike Lazaridis (born 1961), an engineering student at the University of Waterloo, and Douglas Fregin (born 1960), an engineering student at the University of Windsor, founded Research in Motion in 1984.
The two met in grade school and remained good friends till they finished high school. Peers said they were lovers of science fairs and would spend much of their after-class hours tinkering in the electronic shop room.
While students at university, together they developed a video-signaling device.
Fredin said:
"We got back together after school and decided to market that product. And that's the foundation of Research In Motion."
Within eight years, Research in Motion (RIM) had 16 staff, sales nearing half a million dollars a year, and three or four product lines. Fregin said it was at this point he and his partner realized they urgently needed a business partner if they wanted to expand.
In an interview with Canadian Business in 2005, Fregin said:
"Mike and I could do the engineering, but it was the business end that we really needed help with. That's where Jim came into play."
Jim Balsillie (born 1961) joined RIM in 1992 and became co-CEO with Lazaridis, while Fregin concentrated on the engineering side of the business.
Jim Balsillie (left) and Mike Lazaridis.
In 1995, Canadian venture capitalist firms led by Working Ventures Canadian Fund Inc. invested C$5 million in the privately held company. The proceeds were to be used to complete RIM's two-way paging system software and hardware.
Before RIM's initial public offering (IPO) on the Toronto Stock Exchange in 1998, the company had raised a total of C$30 million in pre-IPO financing.
RIM worked with Ericsson to develop the Mobitex wireless data network into a wireless email network.
In 1998, the company started shipping the Inter@active Pager 950, which competed against Motorola's SkyTel two-way paging network.
Name 'BlackBerry' appears in 1999
RIM introduced the BlackBerry 850 pager in 1999. The name BlackBerry first appeared, and was used because the keyboard's keys looked like the druplets of the blackberry fruit. The launching of this device raised the company to a new level. In April 2000 it launched the BlackBerry 957, its first smartphone.
BlackBerry's OS platform and BES continued improving, while its incorporation of encryption and S/MIME made it increasingly popular among companies and government agencies.
It was not long before RIM started aiming BlackBerry devices at the consumer market. It launched the BlackBerry Pearl 8100 which included a camera, its first multimedia feature. The Pearl series sold well, as did the Curve 8300 series and Bold 9000.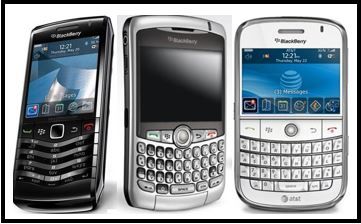 The Pearl 8100 (left), Curve 8300 and Bold 9000 (right).
BlackBerry products became increasingly popular in both the corporate and consumer markets.
When the Apple iPhone appeared on the market in 2007, experts were divided about what this might mean for the Canadian company. Some media outlets described the iPhone as the "BlackBerry Killer".
Lazaridis and colleagues responded to the iPhone's features by introducing its first touchscreen smartphone in 2008, the BlackBerry storm. Although sales of the Storm were respectable, it received mixed reviews and was criticized for scoring badly in customer satisfaction surveys.
Despite iPhone's initial shock, BlackBerry sales and number of active users stayed well ahead of Apple's.
Apple's iPhone and Google's Android make inroads
In the US, BlackBerry had 21 million users by the end of 2010, while its global subscriber base reached 36 million. However, iPhone and Google Android continued making ground in the US. By the end of 2012, it only had 9 million users in the United States (but 79 million worldwide).
Although the Canadian company's global growth continued, investors and much of the North American media expressed alarm at its perceived inability to compete with Apple's iOS and Google's Android.
In June 2014, a CNN show described BlackBerry as one of six endangered brands in the US.
In 2011, RIM launched the BlackBerry PlayBook tablet, which ran on the new QNX platform. Experts say it was rushed onto the market, meaning the teething problems had not been sorted out. Sales were slow, and the company eventually had to write down the inventory value by $485 million.
The company in 2014
In September 2014, the Blackberry Passport was unveiled at various events worldwide. John Chen, the company's current CEO, believes it will help gain market share among business users.
Media outlets described the Passport as the first piece of proper innovation the company had come up with for a long time.
Mr. Chen who started his tenure in November 2013, said:
"When you come out of restructuring, when you come out of financial problems, once you stabilize the company, customers and the market will only respond if you're innovating again."
Mr. Chen shifted the company's focus from the consumer to corporate market.
Regarding its Fiscal 2015 Second Quarter results, Mr. Chen said:
"We delivered a solid quarter against our key operational metrics, and we are confident that we will achieve breakeven cash flow by the end of FY2015. Our workforce restructuring is now complete, and we are focusing on revenue growth with judicious investments to further our leadership position in enterprise mobility and security, driving us towards non-GAAP profitability during FY16."
---
Income statement data (in $ millions)
2015*1
2014*2
Revenue
$3,335
$6,813
Cost of sales
$1,731
$6,856
Gross margin
$1,604
$(43)
Operating expenses
$2,027
$7,120
Research and development
$711
$1,286
Selling, marketing and administration
$938
$2,103
Amortization
$298
$606
Operating loss
$(423)
$(7,163)
Loss from continuing operations
$(304)
$(5,873)
Net loss
$(304)
$(5,873)
Comprehensive loss
$(319)
$(5,877)
Balance sheet data (in $ millions)
Total assets
$6,549
$7,552
Total liabilities
$3,118
$3,927
Total equity
$3,431
$3,625
Common share data (in $)
Loss per Share
$(0.58)
$(11.18)
Cash flow data (in $ millions)
Net cash provided by (used in) operating activities
$813
$(159
Net cash used in investing activities
$(1,173)
$(1,040)
Net cash provided by (used in) financing activities
$16
$1,224
Cash and cash equivalents, beginning of year
$1,579
$1,549
Cash and cash equivalents, end of year
$1,233
$1,579
*1 – Years Ended February 28
*2 – Years Ended March 1
Source: "Blackberry Limited Form 40-F 2015"
---