A Blackberry profit for the first quarter of Fiscal 2015 surprised analysts and sent shares up by 10% in pre-market and 14% in mid-morning trading.
Net profit for Q1 Fiscal 2015 (three months to the end of March 2014) was $23 million or 4 cents a share, versus a $84 million loss in Q1 Fiscal 2014 and a $423 million loss in the previous quarter.
Revenue, which had been falling steeply, declined by just 1% compared to the previous quarter to $966 million.
Including adjustments, there was a loss of $60 million or 11 cents per share.
The troubled smartphone maker's losses had been steadily increasing since 2013, when it opted for a series of new mobile phones and the BB10 operating system which did not manage to beat off fierce competition from other device makers, including Apple and Samsung.
In the last financial year, ending on March 1st 2014, the company reported a $5.9 billion net loss.
Amazon's app store deal
The company is in the middle of a program to recover market share, reduce costs, increase sales and return to profitability, this has included selling its headquarter property at Waterloo, Ontario, Canada.
A deal was agreed this week with Amazon's app store to license more than 240,000 Android applications, allowing user's of BlackBerry's latest operating system to access Android apps later this fall.
BlackBerry says the Amazon deal will allow it to spend less time focusing on the consumer side of its business and concentrate more on government and corporate customers, while at the same time Amazon subscriber numbers will be boosted.
John Chen, Executive Chairman and Chief Executive Officer of Blackberry, said:
"Our performance in fiscal Q1 demonstrates that we are firmly on track to achieve important milestones, including our financial objectives and delivering a strong product portfolion."
"Over the past six months, we have focused on improving efficiency in all aspects of our operations to drive cost reductions and margin improvement. Looking forward, we are focusing on our growth plan to enable our return to profitability."
Blackberry Q1 Fiscal 2015 highlights
Cash and investments balance, $3.1 billion, compared to $2.7 billion in the previous quarter,
Gross margin (adjusted) increased to 48% from 43% in the prior quarter,
Operating expenses were down 57% compared to Q1 in the previous year and 13% less than the prior quarter,
The new Z3 device, a low-cost device targeted at emerging markets, was successfully launched in Indonesia. There are 8 additional countries to follow. Although demand in Indonesia was "strong", Blackberry did not publish sales figures. This week, the Z3 was launched in Vietnam.
Revenue breakdown for the $966 million total in Q1 Fiscal 2015 was as follows:
Software and other revenue: 7%.
During Q1, Blackberry recognized hardware revenue on about 1.6 million versus 1.3 million in the previous quarter. In Q1 the company sold 2.6 million smartphones through to end customers. In Q1, sixty-five percent of devices sold were BB10 phones. Sales were very modest when compared to Apple, which sold 43.7 million iPhones during the same quarter.
The "Classic", the "Passport" and "BBM"
A new phone, which Blackberry calls "the Classic", will be launched at the end of 2014. It is aimed at enterprise customers who prefer the classic Blackberry keyboard and email system.
Without revealing details on its features, the company says it is launching a new mobile phone – the "Passport" – in London in September, 2014.
Under Chen's leadership, who took the helm in November last year, the company has moved its focus from hardware to services, including Blackberry Messenger.
There are plans to launch a new BBM for Windows and BBM Meetings in Q2, making it look much less likely that the company plans to sell of its messaging service.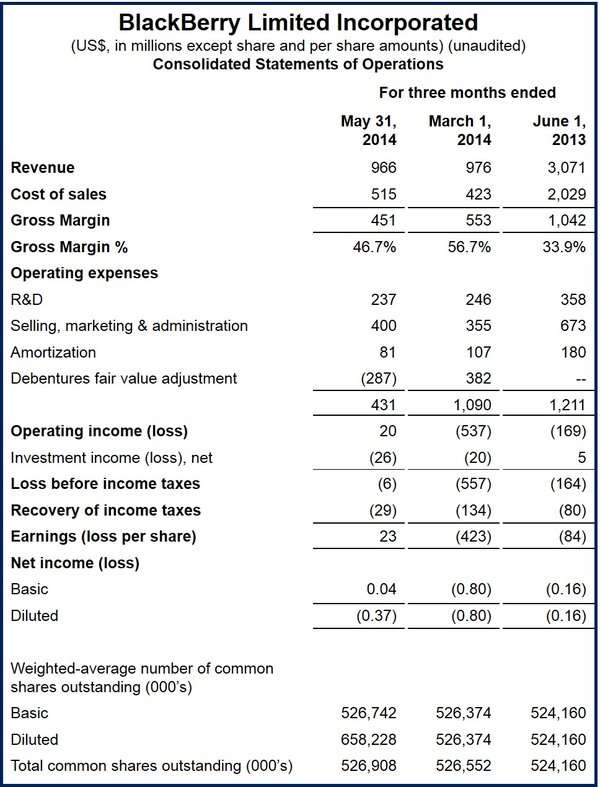 (Source: BlackBerry)