The Siemens Mitsubishi Alstom bid has been sweetened, with the cash component of Siemen's and Mitsubishi's offer increased by €1.2 billion to €8.2 billion ($11.2 billion). This is just one day after General Electric revised its $16.9 billion bid for the energy division of the French conglomerate. General Electric, however, did not put any more money on the table.
Update June 22, 2014: The Alstom board has unanimously approved General Electric's offer. If approved by Alstom's workers representatives, shareholders and regulators, the deal is likely to be completed in 2015. The French government, which will buy a 20% stake in Alstom, also backed the deal.
The Siemens Mitsubishi bid increases Alstom's energy business' valuation to €14.6 billion ($19.88 billion), or €400 million more than before.
General Electric's (GE's) revised offer involves creating a joint venture with Alstom's nuclear and energy divisions and to sell GE's rail signaling business to Alstom, but the original $16.9 bid value still stands.
In April 2014, immediately after General Electric made its initial offer, Alstom said it would welcome an offer by Siemens. Siemens expressed interest, as long as it could interview Alstom's management for four weeks and had access to the French company's books. Alstom complied with Siemen's request.
Alstom reported a €556 million ($774 million) fall in profits for the full year to March 2014.
French government involved
Alstom, the French multinational giant involved in electricity generation, high-speed trains and other rail transport products and services, is seen as a strategic industrial company, i.e. the French government has the right to stop any takeover attempt by a foreign company.
The President of France, François Hollande, has met delegations from the German, Japanese and American companies regarding their potential offers.
General Electric Chairman and CEO Jeff Immelt said:
"Our discussions with the French government over the past seven weeks have been productive. As a result, we have reached agreements with Alstom's management that will create an alliance between our companies in both spirit and practice. The alliance will retain and strengthen France's presence in the energy business and reinforce Alstom Transport. It creates jobs, establishes headquarters decision-making in France and ensures that the Alstom name will endure."
"This proposed alliance also preserves the value of this deal for GE investors. Our synergies remain intact. It is immediately accretive to our earnings, furthers the transition of our portfolio towards industrial businesses, and broadens our product and service offerings for customers."
General Electric has given Alstom's board a June 23 deadline to decide whether or not to accept its new offer. Its original proposal had the support of Patrick Kron, Alstom's chairman and CEO, as well as the company's largest shareholder, the Bouygues family.
Siemens Mitsubishi Alstom bid simplified
In a joint statement, Mitsubishi and Siemens say they have submitted an offer letter to Alstom which reaffirms their commitment to enhance Alstom as an independent "global player in energy and transport."
The German and Japanese companies said that after extensive talks with stakeholders, they reviewed their offer regarding complexity, strengthening execution and narrowing risk exposure. For the benefit of all parties they have further simplified the structure of their proposal.
Siemens and Mitsubishi wrote:
"The specified proposal continues to preserve Alstom's current perimeter in almost all its activities, enhances its industrial sustainability, strengthens its financial structure, enabling it to be an approx. Euro 20 billion revenue French listed group."
"With additional 1,000 new created jobs by MHI (Mitsubishi Heavy Industries) and additional 1,000 apprenticeship training positions by Siemens the proposal will foster job creation in France. MHI and Siemens continue to firmly believe that their proposal is the best one for Alstom, its employees, its clients, its shareholders and French national interests. Such proposal is superior industrially, financially and socially."
Apart from power generation, Alstom also makes trains, including the high-speed TGV.
Mitsubishi says its intention now is to purchase a 40% shareholding in Alstom's combined steam, grid and hydro business, which it believes will considerably simplify the implementation of the transaction, "as this investment may now be undertaken through one single holding company as opposed to three JVs as contemplated in the June 16th proposal."
Mitsubishi's cash contribution increases by €800 million to €3.9 million, with the valuation of the underlying business remaining the same.
Siemens says it is able to raise its cash offer by €400 million, thus increasing the proposal's total evaluation by €4.3 billion.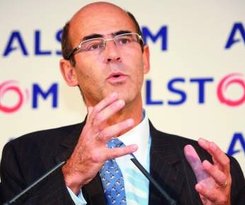 Siemens and Mitsubishi added:
"In addition to the proposed Letter of Intent for the Rail business, Siemens offers to enter immediately into a Joint Venture for Mobility Management including Signalling between Alstom and Siemens."
Alstom and Siemens have history
Alstom's Chief, Patrick Kron, is likely to still remember how Siemens torpedoed a previous rescue deal he had put together in 2005. A plan to inject capital into the French company was halted after Siemens lobbied to the European Commission.
Siemens is desperately trying to secure a deal, that is why it has enlisted Mitsubishi to give it more muscle. Without a deal, the German company will slide in the global power industry league and maintain a medium-sized transport business, along with its other divisions.
Joe Kaeser, Siemens' new CEO, announced plans to cut 15,000 jobs as part of its quest to catch up with rivals Alstom, ABB and General Electric.
Alstom shares closed down 1.24% yesterday, with investors discouraged by government interventions and uncertainty over a deal.
Video – Unions split on GE's new offer