Blackberry Ltd. posted a lower-than-expected revenue decline to $793 million in the third quarter compared to $1.19 billion in the same quarter last year – a 34% slide. Shares in the company fell 5.6% to $9.50 in pre-market trading on the news as more investors chose to sell than to buy.
Cash flow improved in the third quarter to a positive of $43 million compared to a negative $36 million on the previous quarter. The company is aiming for a break-even cash flow by February 2015, which is the end of its fiscal 2015.
BlackBerry's CEO John Chen said in a conference call with analysts on Friday that the quarter's results were "not satisfying". He added that he needs two more years to turn the company round and deliver increased sales.
Analysts pointed out that if the Canadian telecommunication and wireless equipment company can generate cash flow on considerably lower revenue, when sales rise it should deliver strong results.
Mr. Chen, who took over in 2013, turned the company's focus towards providing software and security for corporations and government, as well as introducing new smartphones for corporate users, such as the Passport and the recently-launched Classic.
BlackBerry sold about 2 million smartphones in the third quarter, compared to 2.1 million in Q2. The square-screened Passport came onto the market in September. The company said it pre-sold 200,000 Passports within one week of its launch.
According to Mr. Chen, the new Classic is selling better than the Passport did soon after coming onto the market.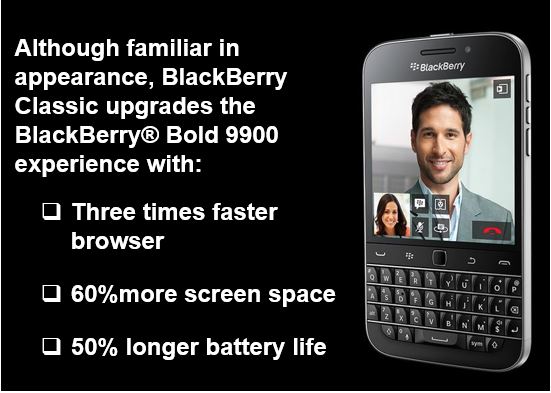 According to BlackBerry, the Classic is "A no-nonsense smartphone built to meet the needs of productive people who appreciate the speed and accuracy that can be found with a physical QWERTY keyboard."
Bloomberg news quoted Timothy Arcuri, a Cowen & Co. analyst, who wrote in a research note on Friday "Positive cash flow and stable net cash are clear positives, but software growth remains the critical driver of the long-term turnaround and near-term transition momentum is heavily reliant on hardware growth."
In the third quarter, BlackBerry posted a $148 million net loss (28 cents per share), which is a huge improvement on its $4.4 billion loss ($8.37 per share) last year. The company ended Q3 with $3.1 billion in cash and equivalents.