Despite heading an economy that is entering a severe recession and a currency which fell by more than 50% this year, Russia's President Vladimir Putin is still extremely popular domestically, a poll carried out by The Associated Press-NORC Center for Public Affairs Research found.
The vast majority of the 2,008 Russian adults polled from November 22 to December 7 accept the economy is in a bad way, and believe sanctions are damaging the country, but most of them still like Mr. Putin.
Trevor Tompson, director of the AP-NORC Center, said:
"We are excited to release the AP-NORC Center's first international survey. Russia is at the center of many matters of contention, both in the domestic and international arenas, and we wanted to explore the state of the Russian public's opinions on a variety of economic and political issues."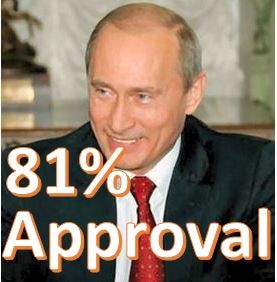 Mr. Putin's approval rating is miles ahead of any other leader's globally.
According to the AP-NORC Center poll:
Enviable rating: 81% of the Russian people have rallied around their leader Mr. Putin. His approval rating today has soared compared to the 58% registered in the last AP poll in 2012.
Economy: for most Russians, the country's economic situation is their top concern, although very few so far report being directly affected by the problems.
Sanctions: the majority of people believe sanctions are harming their economy, although only those with higher incomes reported any impacts on their personal finances.
Ukrainian separatists: two-thirds of the citizens polled say that efforts to support those who wish to separate from the Kiev government should continue.
President Barack Obama's rating is currently 45%, according to the latest NBC News/WSJ poll, his highest rating since October 2013.
What are Sanctions?