While BlackBerry Limited says the Asian market is a crucial priority for the loss-making company's fortunes, China is not. CEO John Chen says the Canadian telecommunications and wireless equipment firm has no plans to break into the Chinese market for the time being.
Mr. Chen, who has been overseeing a turnaround for the past 12 months, said the allure of the world's largest smartphone market, China, is undermined by concerns regarding data security and the political backlash that security breaches could trigger.
BlackBerry's Asian market expansion will be focused on India, Indonesia, Malaysia and Singapore, Mr. Chen said in an interview with Reuters in mainland China while attending the Asia Pacific Economic Cooperation Forum.
Mr. Chen said, regarding the Chinese market:
"Even if I have that time and money I'll probably have better returns going into a different set of markets that we are already in, like India, South Asia, and Southeast Asia."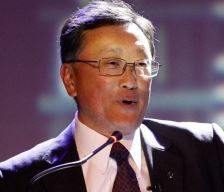 Some requests for user data would be impossible to respond to because of BlackBerry's encryption, Mr. Chen said.
Mr. Chen's latest comments contrast starkly with what he said in October – that China was "too big a market to ignore." There have also been growing rumors that the Beijing-based multinational computer technology company Lenovo Group Ltd. may make moves to acquire BlackBerry.
Mr. Chen said that during his visit to Beijing he met with Chinese government officials, as well as executives from Lenovo and smartphone manufacturers Taiwan-based HTC Corporation and Beijing-based Xiaomi Inc.
According to Mr. Chen, BlackBerry may be interested in an Asian partnership, but not one involving cash because the Canadian company has a $3 billion chest fund.
Security is the at the core of BlackBerry's brand, which makes the Chinese market a particularly tricky one.
Any projects involving breaking into the world's second largest economy would require agreements with Chinese authorities regarding requests for user data, Mr. Chen said. The last thing he wants is to "get sucked into a geopolitical equation," he added.
Chinese authorities are notorious for requesting user data in their attempt to keep a lid on insurgency and maintain censorship. Many companies cede to those requests. BlackBerry has a history of standing its ground regarding user data. The company says its encryption makes it virtually impossible to respond to some requests.
BlackBerry launches BBM Meetings
On Friday, BlackBerry launched BBM Meetings, a video-conferencing app which is available for both BlackBerry and Android device users.
The company says it is working on an Apple iOS version.
Up to twenty-five users can actively take part in a conference call using BBM Meetings.
BlackBerry informed:
"BBM Meetings is not just another collaboration app. It's a new way to work smarter and be more productive, from any Android, iPhone, BlackBerry 10 smartphone, Windows PC or Mac. BBM Meetings combines a mobile optimized user experience that allows on-the-go professionals to schedule, host and participate in meetings easily, with enhanced features that are simply not found in other leading collaboration solutions. All at a fraction of the cost of other leading collaboration solutions."