Microsoft Corporation is now the second largest company in market value worldwide, pushing Exxon Mobil and Google into third and fourth places respectively. The biggest company by market capitalization is Apple Inc., and by a very long way.
In May 2014, Exxon was in second place, with a market capitalization (the total value of all its outstanding shares) valued at $483.1 billion. The 30% fall in oil prices since June has pushed down Exxon's share price to $95.09, which means the company is now worth $402.66 billion.
The US shale boom plus falling demand because of China's economic slowdown have pushed oil prices down.
Satya Nadella, who has been Microsoft's CEO since February 2014, has shifted the company's focus towards web-based cloud services, a strategy which clearly has gone down well with investors.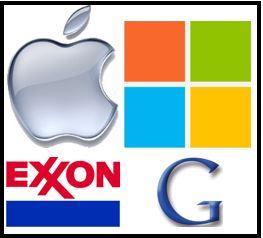 Four largest companies: 1. Apple 2. Microsoft 3. Exxon 4. Google.
Under Mr. Nadella, Microsoft has been able to shake off its reputation as a clumsy giant dinosaur that is unable to respond to shifting consumer preferences and tech trends.
On Friday November 14th, Microsoft shares closed at $49.58, giving it a market capitalization of $408.7 billion. In May 2014, the company was worth $343.8 billion. Its stock has risen almost 70% since April 2013.
Analysts say Microsoft is not yet out of the woods. The company is still heavily dependent on a shrinking personal computer market. However, when compared to other old-time tech stalwarts, such as Oracle, Hewlett-Packer and IBM, the Redmond-based company is faring better.
Google Inc., in fourth place, has a market capitalization of $369.5 billion, which is down from the $382.5 billion figure in May.
Apple Inc. is still way ahead in first place, with a market capitalization valued at $669.65 billion.