British Prime Minister David Cameron warned Russian President Vladimir Putin that if he carries on "destabilizing" Ukraine, Russia risks facing further and more severe economic sanctions. The warning came at the G20 summit in Brisbane, Australia.
The annual summit began in a tense atmosphere, which was dominated by Western anger towards Mr. Putin. Virtually all western leaders weighed in against Mr. Putin. Even outside in the street, demonstrators focused their protests against Russia.
"If we continue to see Russian troops (inside Ukraine)," Mr. Cameron said, there would "have to be a very different relationship."
Mr. Cameron then met with Mr. Putin for a private discussion after giving his speech.
A spokesman for the Kremlin said that after their private meeting both men expressed an interest in repairing relations between Russia and the UK.
Russia says it has no troops in Ukraine and is not supplying the separatist rebels with military equipment. It does admit however, that "volunteers" may have crossed the border independently.
Mr. Putin said the sanctions against Russia imposed by the US, EU, Japan, Australia and other allies were a huge mistake. He added that they breached international law and would undermine not only Russia's economy, but also the world's.
Despite the verbal attacks, Mr. Putin and Mr. Cameron shook hands.
In an interview with the BBC, Mr. Cameron said:
"What we need to see is Russia respecting the territorial integrity of Ukraine and the right of this country to choose its own future."
If Russia wanted to, it could foster good relations with other countries and also with the Ukraine, he emphasized.
But if Russia carries on destabilizing its neighbor and Russian troops and tanks continue being spotted inside Ukraine "then there is going to have to be a very different relationship between Britain and Europe on one hand and Russia on the other, and the potential for further sanctions," he said.
Mr. Putin must recognize that in Ukraine there is only one legitimate government, Mr. Cameron insisted.
Stephen Harper message much more direct
Canadian Prime Minister Stephen Harper's comment was as clear as daylight. According to spokesman Jason MacDonald, Mr. Harper said to Mr. Putin:
"I guess I'll shake your, hand but I have only one thing to say to you: You need to get out of Ukraine!"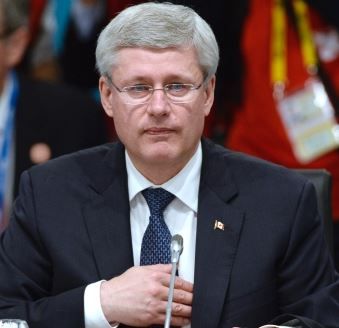 Mr. Harper did not mince his words.
A Russian delegation spokesman responded to Mr. Harper's comment with "That's impossible because we are not there."
The summit was meant to be all about economic issues. Australia's Prime Minister Tony Abbot officially opened the event with a pledge that the G20 leaders would cooperate towards adding $2 trillion to global GDP through increased infrastructure investment and freer trade.
He said the program would boost global GDP by over 2% and add millions of jobs.
Unfortunately, what was highest in most leaders' minds were the actions of Mr. Putin over the past few days.
Mr. Abbot accused Russia of intimidation by sending four Russian navy vessels to stalk his country's northern coast in the days approaching the summit.
Mr. Abbott said:
"Russia would be so much more attractive if it was aspiring to be a superpower for peace and freedom and prosperity, if it was trying to be a superpower for ideas and for values, instead of trying to recreate the lost glories of czarism or the old Soviet Union."
What are Sanctions?