Blackberry Ltd is working with Boeing Co on the aerospace and defense contractor's Android-based smartphone that can self-destruct if tampered with.
The Boeing Black phone can encrypt calls and has been designed specifically for government agencies to keep data and communications as secure as possible.
According to Boeing, its Black smartphone "was designed with security and modularity in mind to ensure our customers can use the same smartphone across a range of missions and configurations."
BlackBerry CEO John Chen said on a conference call held to discuss its quarterly results:
"We're pleased to announce that Boeing is collaborating with BlackBerry to provide a secure mobile solution for Android devices utilizing our BES 12 platform,"
Adding:
"That, by the way, is all they allow me to say."
The Blackberry Enterprise Service (BES 12)
BES 12 offers clients the ability to easily manage and secure BlackBerry devices on internal networks and devices that run on other operating systems, such as Android or Apple's iOS.
Boeing Black Phone specifications: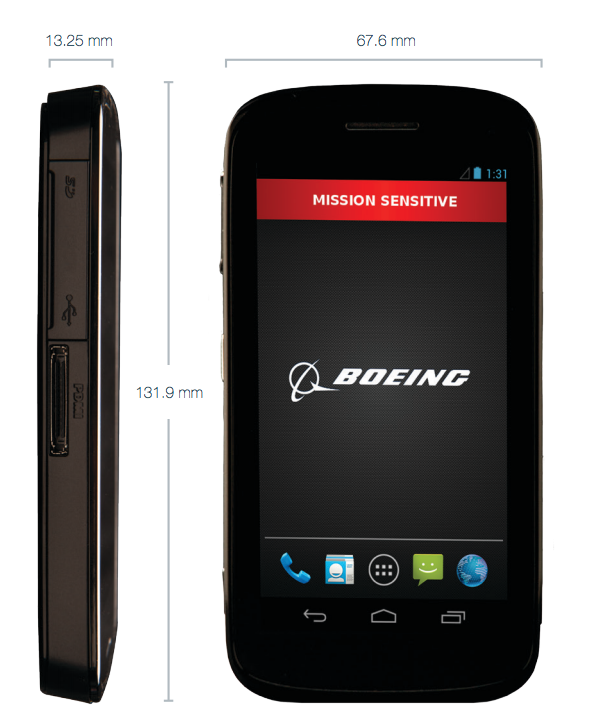 Display: 4.3" qHD (540 x 960 pixels)
Weight: 170g
Battery: Lithium-Ion 1590 mAh
Dual SIM Supported Bands:

LTE 700/1700/2100
WCDMA 850/1900/2100
GSM 850/900/1800/1900

Bluetooth v2.1 + EDR-enabled connectivity
Dual 1.2 GHz ARM Cortex-A9 CPUs
Storage: On-board + microSD
Expansion Ports: micro USB, PDMI, Modular 24-Pin Connector
Security Features: Embedded FIPS 140-2 Key Storage, Hardware Inhibits, Trusted Modules, and Configurable OS Security Policies
Security
According to Boeing:
"Boeing Black's security is powered by the Boeing PureSecure architecture, which was designed from the outset for the mobile environment. Our architectural foundation is built upon layers of trust from embedded hardware, operating system policy controls, and compatibility with leading mobile device management systems."
"The device's hardware roots of trust and trusted boot ensure the device starts in a trusted state, enabling maximum security of data. Hardware media encryption and configurable inhibit controls are embedded to protect the device, its data, and the transmission of information, significantly reducing the risk of mission compromise due to data loss."