January's Minutes of the Bank of England's Monetary Policy Committee (MPC) meeting showed that all nine members voted to keep rates on hold, leaving the benchmark rate at a record low of 0.5%.
Even hawks Ian McCafferty and Martin Weale, who had voted for five months to raise rates, changed their minds in January.
The Minutes (citation at end of article) showed that MPC members, including the two who had voted for an increase since August 2014, felt that December's very low annual inflation rate of 0.5% had veered too far from the BoE's target of 2%.
All nine members expressed concern that any rate hike might push the economy into a deflationary spiral, otherwise known as stagflation.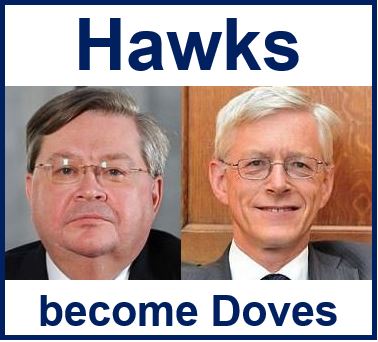 From August to December, Ian McCafferty (left) and Martin Weale voted to raise interest rates. In January they opted for keeping them on hold. A hawk is a monetary term for somebody who places keeping inflation low as a top priority. A dove, on the other hand, focuses more on other factors, such as low unemployment.
The Committee members estimate there is a "roughly even chance" that inflation will slide below zero percent in the first half of this year.
Declining inflation was attributed mainly to the fall in crude oil prices, which members believed could help boost the economy over the medium-term by pushing up real incomes and reducing production costs.
Concern about persistent ultra-low inflation
There was some worry, however, that the low inflation might persist and undermine inflation expectations.
According to the Minutes:
"In particular, it was possible that the fall in near term inflation might become persistent if it lowered inflation expectations, pay and other cost growth in a way that became self-perpetuating. Inflation had fallen globally and was expected to reach its trough in the UK in the early part of the year when a large proportion of pay claims were settle."
"It was therefore possible that the pace of nominal wage growth would be weaker than otherwise and that this would feed into lower subsequent price inflation."
The Members also predicted that the continued fall in crude oil prices would probably contribute to a reduction in capital investment in the country's oil industry. Taking everything into account, they concluded that there was a good chance that inflation might persist well below the target for longer than previously expected.
However, they also commented that low oil prices could boost the economy and eventually push up prices.
Committee members mentioned that volatility had increased and there had been significant moves in some asset prices, which partly reflected the greater political uncertainty linked to elections in Greece. There was evidence of ultra-low global inflation.
Short-term interest rates diverging
They talked about short-term interest rates in the UK and US, which had diverged. While the 1-year sterling rate one year ahead had fallen by nearly 20 basis points, in the US they had increased by 5 basis points.
The divergent expected paths of short-term interest rates in the major economies had been reflected in foreign exchange rates, where the US dollar ERI (effective exchange rate) had appreciated by a further 3% in December to a level 10% higher than a year earlier.
Sterling had fallen by 1% in December against a basket of major currencies, and by 4% against the US dollar. The sterling ERI was about 2% higher than in December 2013, and 11% higher than its trough in 2013, and still close to the top of the trading range established since its steep decline.
After the Minutes were released, the pound sterling weakened against both the euro and dollar.
Given that the economy has the potential to follow two different paths, the Bank of England said it would keep a close eye on consumer spending, wage hikes, exchange rates, and next month's Inflation Report.
While noting that recent wage trends were encouraging, pay would need to accelerate at a much faster pace for it to change its monetary policy decisions, the BoE said.
The following MPC members were present: Mark Carney (Governor), Ben Broadbent (Deputy Governor responsible for monetary policy), Jon Cunliffe (Deputy Governor responsible for financial stability), Nemat Shafik (Deputy Governor responsible for markets and banking), Martin Weale, Andrew Haldane, Kristin Forbes, Ian McCafferty, and David Miles. (Dave Ramsden was present as the Treasury representative).
Citation: "MINUTES OF THE MONETARY POLICY COMMITTEE MEETING – 7 and 8 January 2015," Bank of England.