The Bank of England (BoE) is less likely to start raising interest rates in the near future after American employers dramatically reduced new hiring, despite the pound sterling dropping significantly against other major currencies.
US payrolls outside farming increased by 142,000 in September, well below virtually every forecast. August employment figures were revised sharply down to show just 136,000 jobs added.
There are now growing doubts about whether the US Federal Reserve System (Fed) will raise rates by the end of 2015, as it had previously suggested it might.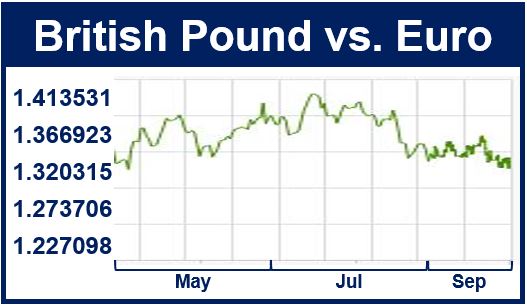 The pound sterling is now down to its early May low versus the euro.
UK government bond prices rose steeply. Five-year gilt yields, which respond more closely to interest rate expectations, plunged to a nearly 8-month low of 1.084%. They then recovered to 1.13%, which at closing was a 5-basis point decline.
Short sterling futures were sharply up for late 2016 and 2017 contracts, in another sign that investors don't believe the BoE will raise rates any time soon.
---
---
The Daily Mail quoted John Wraith, head of UK rates strategy at UBS, who said:
"When you get a number like that which shocks people's expectations about the Fed, it really does have a direct spillover to the outlook for the UK. The fear is that the slowdown everywhere else, in China and emerging markets, is going to spill over into economies that up until now have been doing okay, like the U.S. and the UK."
Pound versus euro and dollar
Most US media sources say that all eyes are now on the Bank of England's decision on October 8th. The BoE's Monetary Policy Committee will meet after the pound dropped to its lowest level in nearly five months versus the euro on Friday.
On Friday, the pound slid by 0.4% to 74.11 pence per euro at 5.08pm. It rose 0.3% this week against the US currency to $1.5218. On October 1st it matched its lowest ($1.5108) since May 5th.
Reuters quoted Neil Mellow, a London strategist at the Bank of New York Mellon, who said:
"There is every reason for the Bank to stand fast on rates and therefore there is very little downside for the euro against sterling. The UK is not rampaging away, there are strong elements to the economy but all the surveys of sentiment are talking about China and the UK and Bank of England can't be impervious to that."
Update – 16 October, 2015: MCP member Kristin Forbes believes interest rates will rise 'sooner rather than later'.