During its Current Market Outlook (CMO) presentation in London today, Boeing raised its forecast of new aircraft demand. It believes 36,770 airplanes worth $5.2 trillion will be needed over the next two decades, 4.2% more than it had previously predicted in 2013.
Randy Tinseth, vice president of Marketing, Boeing Commercial Airplanes, said:
"This market is strong and resilient. With new and more efficient airplanes entering service, the growth in air travel is being driven by customers who want to fly where they want, when they want."
Single-aisle aircraft drive growth
The continued emergence of low-cost airlines has fueled the rapid growth in the single-aisle market, expected to be the fastest-growing and most active segment. Boeing predicts 25,680 new airplanes will be needed in this segment, accounting for 7 in every 10 units in the forecast.
Mr. Tinseth said:
"Based on the overwhelming amount of orders and deliveries, we see the heart of the single-aisle market in the 160-seat range. There's no question the market is converging to this size, where network flexibility and cost efficiency meet."
"The Next-Generation 737-800 and new 737 MAX 8 offer our customers the most revenue potential in this mid-sized space."
A total of 8,600 twin-aisle airplanes will be required, the aircraft maker has forecast, led by small wide-body 200 to 300 seater airplanes, such as the 787-8 and 787-9 Dreamliner. A wide-body aircraft has two passenger aisles, while a narrow-body aircraft just has one.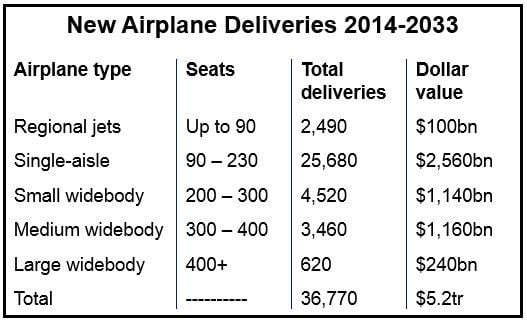 (Data source: Boeing)
Mr. Tinseth predicts that about 40% of single-aisle aircraft in the next twenty years will go to low-cost carriers, with a large share being sold in China. He believes China will surpass the US as the world's biggest domestic air travel market between 2023 and 2033.
Demand continues to shift
The latest forecast reflects a continued change in demand from huge airplanes to efficient new twin-engine units such as the 777X and 787-10.
Tinseth added "With the most comprehensive widebody lineup in the industry, we're confident that we will meet our customers' needs now and in the future."
Boeing's forecast for air-cargo growth in 2014 has been cut from 5% to 4.7%. The company added that the trend is stable and it will continue supporting production of the 747-8 freighter as well as cargo-carrying versions of its 777 jet.
The Chicago-based aerospace company forecasts three billion people will have traveled by plane this year. The figure is expected to hit seven billion by 2033, it added.
Boeing versus Airbus
Boeing predicts it will beat arch-rival Airbus Group NV in the market for twin-aisle planes over the next twenty years.
Mr. Tinseth said in a briefing to reporters today:
"If Airbus doesn't do something with their product strategy, they're headed to 30-35 percent market share."
Boeing's 777X and 787 jets already represent about 65% of all current orders, with the Airbus A350 accounting for the other c. 35%. Boeing says that gap will widen unless the European aircraft maker develops another competing jet.
According to Airbus however, Boeing's figures are wrong. Over the last few years Airbus says it is capturing most of the twin-aisle orders.
There are rumors throughout specialized media that Airbus will announce the development of a new jet at the Farnborough Airshow in England next week. Consulting firm Deloitte predicts that at least 500 jetliners will be ordered at the show, which starts on July 14.
Earlier this year, shares of Boeing Co. reached an all-time high. However, this month they have declined by 8%. At the opening bell today, the stock edged lower.