A Google Ventures European fund aimed at technology start-ups has been unveiled by the search engine giant. The $100 fund aims to invest in the best of European tech entrepreneurs, says Google Ventures. It will be based in Clerkenwell, London, a stone's throw from the "silicon roundabout".
Bill Maris, Managing Partner at Google Ventures, points to inventions he saw at the Science Museum in London which still influence our lives today, such as Puffing Billy, one of the first steam locomotives, or Charles Babbage's difference engine. "(These) are tangible examples of how fearless exploration and entrepreneurship can literally change the world," Maris wrote.
The $100 million is an initial fund that Google believes will help enterprising Europeans bring their ideas to life. It is much small than Index Venture's €400 million ($544 million) aimed at early-stage tech firms or Accel Partners' $475 million.
The California-based multinational invests about $300 million each year and manages $1.5 billion in assets through Google Ventures.
One huge advantage of having Google as a start-up company's venture capitalist is the prospect of later being acquired by the internet giant. Google Ventures invested in thermostat and smoke alarm maker Nest Labs, and then acquired it at the beginning of the year for $3.2 billion. Nest Labs (as part of Google) went on to buy Dropcam in June for $555 million.
Start-ups need more than just money
Start-ups need capital, but also engineering support, design expertise and guidance with product management, marketing and recruiting. Google Ventures, which was launched in 2009, says it set out to be a new type of venture fund, offering support as well as money.
Mr. Maris says today Google Ventures is working with over 250 portfolio companies across a range of industries. For example:
Flatiron Health is finding better ways for doctors and their patients to approach cancer care,
SynapDX is developing a new blood test that may detect Autism in children early on,
Clean Power Finance is making affordable solar energy for homeowners.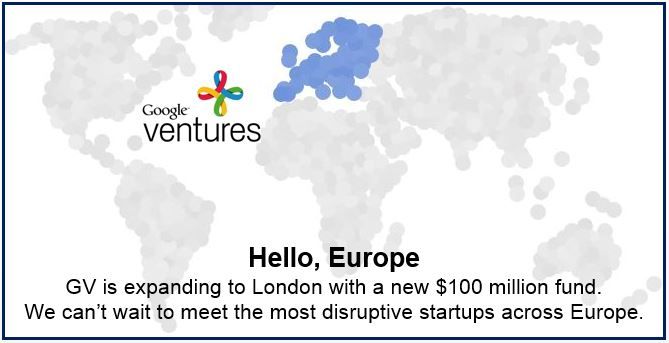 Google believes Europe will become home to some major tech companies.
Mr. Maris Wrote:
"We believe Europe's start-up scene has enormous potential. We've seen compelling new companies emerge from places like London, Paris, Berlin, the Nordic region and beyond- SoundCloud, Spotify, Supercell and many others."
"We can't predict the kinds of inventions the Science Museum might showcase 10+ years from now, but we do know European start-ups will be essential to this future, and we can't wait to see what they create."
Google Ventures Europe, general partners
Google Venture's European arm will have four general partners, according to the Financial Times:
Eze Vidra, who has been a longstanding executive. He set up Google's "Campus" in London.
Avid Larizadeh, co-founder of fashion accessory website Bottica.com and head of the UK arm of code.org.
Peter Read, a British AngelList investor who advises tech firms.
MG Siegler, an American, a former columnist for TechCrunch turned venture capitalist. He will move to London temporarily to become the liaison between Google Ventures headquarters and its European arm.
The four partners will report to Mr. Maris. The Financial Times says he does not yet know how many investments Google will make in the region, and how big each one might be. "If you look at the US, we invest at all stages and in all sectors. It's not about how many investments we do, but the impact those companies have," he said.
Video – Google Ventures
Google Ventures (GV) claims to be a radically different type of venture capitalist. In this video, some of the startup founders GV has worked with talk about their experiences.