A Boeing Shandong Airlines deal involving fifty 737 airplanes worth $4.6 billion at list prices has been agreed. The Chinese carrier placed the order with Boeing as it seeks to expand its fleet size to cater for rapidly-rising domestic demand.
China says it will need more than 5,500 new aircraft by 2032. The Asia-Pacific region is expected to need 192,000 new pilots over the same period.
Shandong Arlines, one of China's smaller passenger carriers, announced that the order involves sixteen 737-800s and thirty-four 737 MAX aircraft. The airline says the aircraft will be purchased through cash flow from its operations, bank loans and "other funding operations."
Shandong Airlines plans to expand its fleet to over 140 airplanes by 2020. The current Boeing order will be delivered in batches between 2016 and 2020.
The Boeing Shandong Airlines deal is seen as a setback for Europe's Airbus. Although it is being treated as a "firm order", it still needs final approval by the Chinese government.
The BBC quotes Boeing, which said in a statement "Boeing is delighted with Shandong Airlines' strong interest in the efficient 737 airplane and we continue to work with them and the Chinese government to determine the best way to meet their requirement."
Boeing Shandong Airlines deal reflects a global market trend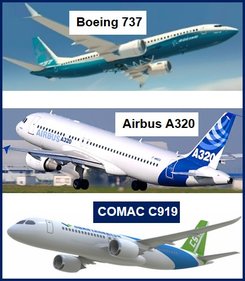 Demand is growing worldwide for medium-sized fuel efficient airplanes. Analysts predict sales for narrow-body (single-aisle) passenger planes will reach at least $20 trillion over the next two decades. The market is currently dominated by the Boeing 737 and Airbus A320 aircraft.
When vying for business in China, Boeing and Airbus do not only have to compete with each other for market share, but also with the COMAC (Commercial Aircraft Corporation of China). COMAC produces the C919 aircraft, a 100-to-200 seat plane.
COMAC, which mainly sells within China, has already received over 400 orders for its C919.
Chinese airlines' profits warning
Air China, which signed a multi-billion dollar deal with Airbus in March, warned today that its Q1 2014 profits will be 65% down compared to Q1 2013, due to the yuan's 2.7% devaluation against the dollar in the first three months of this year. Last week another Chinese airline, China Southern Airlines, also warned that its profits will be lower this quarter, for the same reason.
China's commercial aviation sector is currently dominated by China Southern Airlines, China Eastern Airlines and Air China. However, as the country moves towards greater competition, smaller players are starting to thrive.
Shandong Airlines is 42% owned by the Shandong Aviation group, while Air China has a 22.8% shareholding.
Written by [google_authorship]