A Novartis GSK deal has been struck in which they swap assets and combine their consumer health units, the two pharmaceutical giants announced today. Novartis is to buy GSK's (GlaxoSmithKline's) cancer drugs section for $16 billion and GSK will by Novartis' vaccines division (excluding flu) for $7.1 billion.
In the Novartis GSK deal, the two companies will also merge their consumer divisions "to create a world-leading consumer healthcare business," Novartis wrote today in a press release.
Consumer healthcare refers to non-prescription products, including nutrition, oral care, wellness, skin health, and OTC (over-the-counter) medications.
Novartis has also agreed a deal with Eli Lilly, which is to buy its animal health division for approximately $5.4 billion. Novartis said the deals will allow it to "further focus its portfolio on the leading businesses of innovative pharmaceuticals, eye care and generics."
Novartis International AG is based in Basel, Switzerland. It employs 119,000 people. GlaxoSmithKline PLC is based in London, UK. It employs 99,000 people.
"A transformation moment for Novartis."
Joseph Jimenez, CEO of Novartis, said in a statement:
"The transactions mark a transformational moment for Novartis. They focus the company on leading businesses with innovation power and global scale. They also improve our financial strength, and are expected to add to our growth rates and margins immediately. We have also created a world-leading consumer healthcare business in our joint venture with GSK."
"We believe the divestment of our smaller Vaccines and Animal Health Divisions will enable us to realize immediate value from these businesses for our shareholders, and those divisions will benefit from being part of large, global businesses that are also leaders in their segments. Patients will benefit from even higher levels of innovation that this focus may afford. Looking ahead, this positions Novartis well for future healthcare industry dynamics."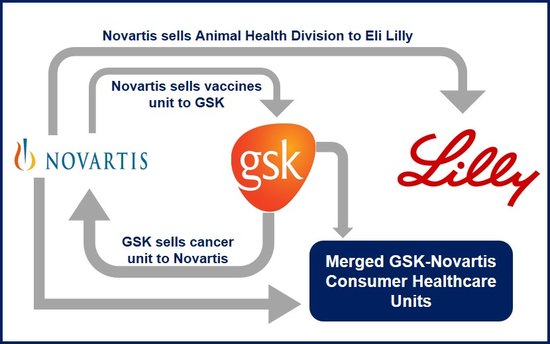 Is the Novartis GSK deal (plus Eli Lilly) the beginning of a new industry trend?
GSK oncology to be sold to Novartis
In the Novartis GSK deal, Novartis agrees to buy GSK cancer medications for $14.5 billion and up to $1.5 billion contingent on a development milestone.
Novartis will also have opt-in rights to Glaxo's current and future cancer drugs under development.
Novartis vaccines to be sold to GSK
GSK has agreed to buy Novartis' vaccine business, excluding its flu products, for $7.1 billion plus royalties. In the Novartis GSK deal, $5.25 billion is paid upfront and up to $1.8 billion in milestones.
Regarding its flu business, Novartis wrote "As a part of a value-maximization strategy in the context of the portfolio review, Novartis has initiated a separate sales process for its flu business."
GSK Novartis consumer healthcare joint venture
GSK Consumer Healthcare and Novartis OTC will merge, creating what the two companies describe as a world-leading business. When the merger is complete, Novartis will own 36.5% of the joint venture with eleven seats on its Board.
Novartis says it will also have customary minority rights and exit rights at a pre-defined, market-based pricing mechanism.
GlaxoSmithKline's CEO, Sir Andrew Witty, said:
"This proposed 3-part transaction accelerates our strategy to generate sustainable, broadly sourced sales growth and improve long-term earnings. Opportunities to build greater scale and combine high quality assets in Vaccines and Consumer Healthcare are scarce. With this transaction we will substantially strengthen two of our core businesses and create significant new options to increase value for shareholders."
"The Novartis OTC portfolio is highly complementary to GSK's and has many well-known, widely recommended brands such as Voltaren, Excedrin, Otrivin, and Theraflu. Together, we will create the world's premier OTC business with clear opportunities to accelerate revenue growth."
It has been an exciting week in the global pharmaceutical industry. On Monday reports circulated that Pfizer intends to acquire AztraZeneca (AZ). According to merchant bankers, the British multinational (AstraZeneca) resisted a takeover attempt from the world's largest drugmaker (Pfizer). Most experts expect Pfizer to make another takeover bid for AZ.
Video – Novartis GSK deal, plus Eli Lilly
Written by [google_authorship]