The Federal Reserve's bond purchase fell another $10 billion after policymakers voted today to carry on scaling back for the third consecutive month on its stimulus program. The Fed added that its near-zero interest rate will not necessarily rise when unemployment falls below 6.5%.
The Fed's bond purchase fell $10 billion today after the Federal Open Market Committee (FOMC) voted 8-1 in favor; it now stands at $55 billion per month. It is on course to reach zero this year.
A number of economists wondered whether the FOMC might postpone the taper after slower winter GDP growth, mainly due to severely harsh weather conditions.
Fed officials have reduce their GDP (gross domestic product) growth projections, and are now forecasting between 2.8% and 3% growth for 2014, compared to December's 2.8% to 3.2%.
Revised policy on unemployment and interest rates
Policymakers' unemployment predictions have improved. Unemployment is expected to fall to 6.1% in 2014, compared December's 6.3% forecast.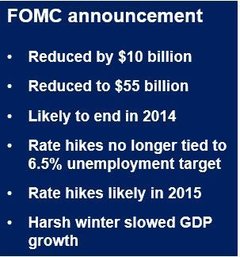 The Fed's forward guidance on interest rates has been revised following faster-than-expected falls in joblessness. In its previous guidance, interest rates would remain near zero until unemployment fell to 6.5%.
With unemployment at 6.7% in February and the 6.5% floor looming nearer and nearer, the FOMC decided to remove the 6.5% reference. However, they added that the revision "does not indicate any change in the committee's policy intentions."
Regarding the unemployment rate, the Fed wrote today "Labor market indicators were mixed but on balance showed further improvement. The unemployment rate, however, remains elevated."
Janet Yellen's first FOMC statement
This is the Committee's first policy statement since Janet Yellen took over from Ben Bernanke on February 3rd.
The FOMC wrote regarding inflation "Inflation has been running below the Committee's longer-run objective, but longer-term inflation expectations have remained stable."
The FOMC says it will monitor incoming data on financial and economic development closely over the coming months, and will carry on buying Treasury and agency mortgage-backed securities, as well as continuing to employ other policy tools as appropriate, "until the outlook for the labor market has improved substantially in a context of price stability."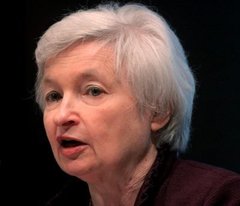 The bond purchases are not on a preset course, the Committee members emphasized, "and the Committee's decisions about their pace will remain contingent on the Committee's outlook for the labor market and inflation as well as its assessment of the likely efficacy and costs of such purchases."
The following FOMC members voted for the policy action today: Janet L. Yellen, Chair; William C. Dudley, Vice Chairman; Richard W. Fisher; Sandra Pianalto; Charles I. Plosser; Jerome H. Powell; Jeremy C. Stein; and Daniel K. Tarullo. FOMC member Narayana Kocherlakota voted against.
Interest rate hike six months after bond purchase ends?
In a news conference today, Janet Yellen signaled that the Federal Reserve might start raising short-term interest rates about six months after its bond-buying stimulus program has ended, which is expected to occur towards the end of this year.
This probably means interest rate hikes in 2015.
Yellen said today:
"This is the kind of term it's hard to define. Probably means something on the order of six months, or that type of thing."
The dollar benefited from FOMC statement today. In an interview with the Wall Street Journal, Mike Meyer, assistant vice president on the world market desk in foreign exchange and metals at EverBank, said "The dollar appreciated after the market got confirmation that the taper would continue. The Fed also communicated that interest rate hikes were still a ways off, but still on the table for discussion. The dollar benefited from that."
On news about a probably interest hike in 2015, which stockbrokers viewed as earlier-than-expected, US stocks fell on Wednesday.
In an interview with Reuters, Peter Kenny, CEO of Clearpool Group, New York, said "She certainly moved it up a little bit, and I don't think the market was expecting that at all because she is widely viewed as being more on the dovish side of the aisle than she is on the hawkish side. That is not a particularly hawkish comment, but the fact of the matter is, it was not expected."
Video – Janet Yellen press conference
Written by [google_authorship]