The February Japanese trade deficit shrank to ¥800 billion ($7.9 billion), its lowest level since May 2013. While imports fell by 9% exports grew by 9.8%, compared to the same month last year. This is an encouraging improvement after the Japanese trade deficit surged in January.
However, a Bloomberg News survey of 31 prominent economists had predicted a Japanese trade deficit of just ¥600 billion.
For over twenty years, Japan has been struggling with either very weak economic growth or decline, falling prices (deflation) and shrinking consumer spending. There is fear among analysts that the Eurozone, with falling inflation rates, may be facing a similar problem.
Weak yen, Chinese Lunar Year, oil & gas imports
Japanese imports have been increasing rapidly over the last year after the country virtually abandoned nuclear power as a source of energy following the Fukushima Daiichi nuclear disaster and increased its imports of oil and gas.
January's huge trade deficit was partly due to the Chinese New Year, a holiday period when China imports much less from abroad.
Imports had also been rising because companies were stocking up ahead of April's sales tax (VAT) hike.
Japan, a country which historically has enjoyed German-like trade surpluses, has registered a trade deficit every month for the last 20 months, a record.
The Japanese trade deficit reached ¥11.5 trillion ($115 billion) for all of 2013, another record. After February's encouraging figures officials are not yet breaking out the champagne, and warn that the large deficit will persists for a while yet.
Prime Minister Shinzo Abe has successfully attempted to devalue the yen against other major currencies. In 2013, the yen fell in value against the dollar by 18%. However, an evident consequence has been a growing trade deficit.
The country's persistent trade deficit could fuel further debate on the wisdom of Abe's weak yen policy.

(Source: Finance Ministry, Japan)
Japanese GDP expected to contract
Most economists expect Japan's GDP (gross domestic product) to shrink in the second quarter of 2014 after the sales tax increase kicks in. The Bank of Japan will likely have to add further stimuli to boost the economy.
Bloomberg News quoted Long Hanhua Wang, an economist at the Royal Bank of Scotland Group, Tokyo, who said "The trend of a moderate expansion in trade deficits remains intact. In the near-term the rise in imports will moderate as the temporary effect fades of imports being pushed higher by demand ahead of the sales-tax increase."
Abe's economic plan, known as Abenomics, is showing signs of perhaps starting to pay off. The country's core inflation rate for December and January was 1.3% (annualized, each month), its highest level in five years.
For the first time since 2008, the value of land in the metropolitan areas of Nagoya, Osaka and Tokyo have risen, by 0.7% compared to January 2013.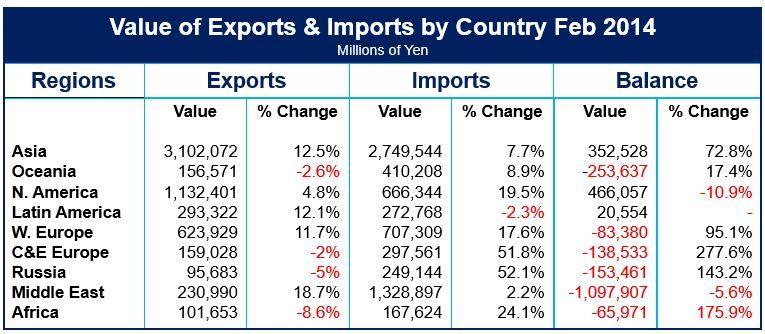 (Source: Finance Ministry, Japan)
Rising imports and exports
Car imports, mainly from Germany, increased by over 100% in February. Rising automobile imports are not necessarily due to the looming sale tax hike, economists say. Tax breaks for 'greener' (eco-friendly) cars have also pushed imports up.
February's exports to China rose 28% compared to February 2013, driven by a 138% rise in vehicle exports.
Following ten successive months of double-digit growth, exports to the United States increased by only 5.6% in February, and actually declined by 1% in terms of volume.
Japanese companies are moving a growing number of their manufacturing operations offshore to be nearer their customers and benefit from lower costs. This trend is working against Mr. Abe's expected export surge. Although sales from overseas operations help lift company profits, they are not counted as exports.
Japanese brands are still extremely popular at home. However, a growing number of products sold by Sony, Toshiba, Panasonic, etc. are manufactured abroad.