Boohoo.com, the British fashion brand that was floated on the London stock market in March 2015, saw its shares plummet by nearly half after a profit warning was announced on Wednesday.
The company warned that full-year earnings would be below its previous forecasts. It blamed industry-wide discounts, which have significantly hurt sales.
Boohoo.com said the heavy discounts seen across the whole clothing retail sector following a warm autumn, which left retailers with high stock levels, hampered growth.
Shares in Boohoo.com declined by more than 40% in early trade to 21.75 pence. News of heavy discounting also pushed down rival ASOS' shares, which dropped by 2.8% to 2,256p.
In a statement, the Bohoo.com said:
"We announced in our interim results statement in mid-October that we had managed our marketing spend and growth in the early part of this period, whilst also delivering the successful implementation of the new warehouse management system and fully responsive website."
"Marketing was then increased to stimulate sales, however, the resultant growth was less than anticipated. We believe this was principally due to heavy promotional activity on the UK high street arising from the warm autumn season."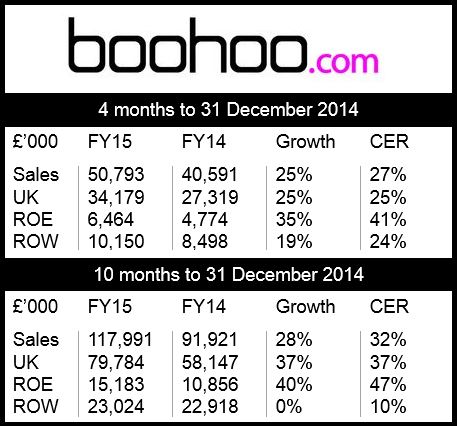 Source: "boohoo.com plc – trading update for the four months to 31 December 2014," Boohoo.com.
Despite an unfavorable trading environment, the company says it had a record week over Black Friday. Demand on that peak day was 2.4 times higher than its previous busiest day.
International growth was strong in 2014. The retailer posted 41% expansion in the US and 20% in Australia. It also achieved a 41% constant currency growth in continental Europe, with sales in France performing especially well.
Boohoo.com expects growth for the second half of the fiscal year to be in line with the 25% expansion posted for the 4-month period ending on December 31, 2014.
The company expects the EBITDA (earnings before interest, taxes, depreciation, and amortization) margin for the full year to be about 10%.
Joint Chief Executives Mahmud Kamani and Carol Kane said:
"Whilst the period proved a challenging trading environment, we have still grown the business by 25%, albeit short of our previous expectations. We are very confident that our fashion credentials, pure play online model and the significant investment in infrastructure will continue to drive growth in the UK and internationally."
According to its Company Overview web page, Boohoo.com "designs, sources, markets and sells own brand clothing, shoes and accessories through the www.boohoo.com website to 16-24 year old consumers in the UK and globally."