The number of shop visits in the UK on Boxing Day this year was 4.5% lower up to 5pm compared to the same day last year, according to research group Springboard.
Footfall on UK high streets and in shopping centres both dropped.
The drop in the number of shop visits is said to be a result of changing consumer habits.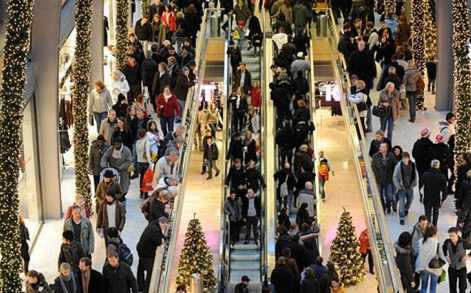 Diane Wehrle, insights director at Springboard, said that "the scale of the drop is greater than expected."
"What we have seen in the last couple of years is a structural shift in the Christmas trading period," she said.
Adding: "The hotspots for Christmas trading around Boxing Day and New Year's Day are dissipating,"
The decline comes as more Britons make the most of online shopping deals and major discount events such as Black Friday – some retailers held sales right up until Christmas.
"Retailers have been discounting since before Black Friday and have had sales ever since," Diane Wehrle was quoted by the FT as saying. "It rather takes the shine off the Boxing Day sales".
Chris Daly, chief executive at the Chartered Institute of Marketing, told the BBC: "Gone are the days of setting the alarm at 06:00 to be first in line for the Boxing Day sales, something borne out by the footage of quiet shopping centres up and down the country."
The volume of consumer transactions online in the first four weeks of December was 28.4% higher compared to the same period last year.