At the hearing in New Orleans on Wednesday, U.S. District Judge Carl Barbier said BP cannot recover hundreds of millions of dollars in overpayments by claimants who it says had inflated their losses.
A US court had accepted in 2013 that the processing of claims by Patrick Juneau had not been fair. So, BP had sought to claw back the money.
Judge Barbier said that BP had told the claimants "if you sign this release, that's it, it's over for you. It doesn't matter if the law changes or not, or if the interpretation of the settlement terms changes for better or worse. I don't know how you get around it. The only conclusion is that this language bars BP from any attempt at restitution."
BP had argued that although it stood by the signed settlement, its subsequent implementation was hijacked by Mr. Juneau, the claims administrator, who it claimed misinterpreted the agreement and was exploited by abusive plaintiffs.
Geoff Morrell, BP's senior vice president for communications, said:
"For BP to have asked for the return of that money was not contrary to the release or any other part of the agreement. It was an attempt to reach the only fair outcome."
Judge Barbier dismissed BP's argument with the following statement: "The court finds this is classic hairsplitting."
BP had initially expected the payout program to total $7.8 billion, however, the final bill is going to be much higher.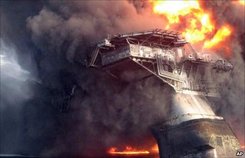 The fireball from the Deepwater Horizon disaster killed 11 people.
The oil giant has filed several motions challenging what it says are exorbitant fees charged by the program's administrator, phony claims and over-generous payments.
So far, since the April 2010 disaster aboard the Deepwater Horizon oil rig that killed 11 workers in the Gulf of Mexico and caused the worst offshore oil spill in the history of the United States, BP has sustained over $42 billion in charges.
On September 4th, Judge Barbier found BP grossly negligent in its conduct that resulted in the offshore oil spill. Grossly negligent, instead of just negligent exposes the company to up to $17.6 billion in civil penalties, which is nearly four times the maximum Clean Water Act fine for simple negligence.
BP has only put aside just $3.5 billion for potential penalties.
Judge Carl Barbier assigned 67% of the blame to BP, 30% to Transocean and 3% to Halliburton.