Multinational British oil & gas company BP plc. is speeding up its workforce reduction program, following the persistent plummeting of oil prices.
The London-based oil giant is looking to drastically cut its non-operations employees, including back-office staff. Middle-management posts are also being considered for the chopping block.
All major and minor energy companies have had to reconsider their business strategies since oil prices dropped by nearly 40% since June 2014.
BP said in a statement:
"Oil is concentrating minds on making the organization more efficient and the right size for the smaller portfolio we have now."
Last week, oil closed at its lowest level since 2009, after OPEC members, led by Saudi Arabia, opted to maintain their 30 million-barrels-per-day production ceiling, despite a persistent decline in prices.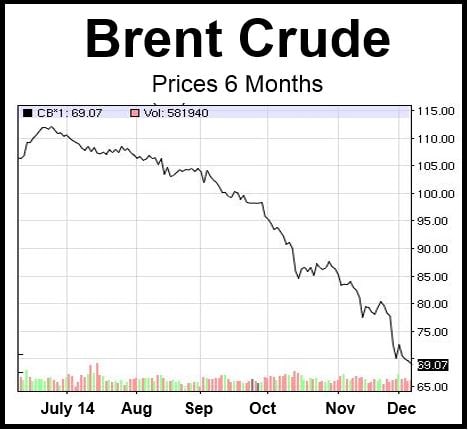 The oil price fall is expected to continue well into 2015. (Chart: Nasdaq)
BP along with other oil majors are expected to cut back drastically on exploration expenditure.
Over the last few years BP has been divesting parts of its portfolio. It says it is today one third smaller than it was in 2010. The company plans $10 billion of asset disposals within the next two years, as part of its restructuring program.
BP is vulnerable to the woes of the Russian economy and its state-owned company Rosneft. It has a 19.75 stake in Rosnet, whose outlook has taken a nosedive over the past six months.
According to analysts in Western Europe and North America, oil will trade at between $60 and $70 in 2015, which is expected to reduce Europe's oil and gas companies' earnings by at least one third. Capital expenditure will be cut severely, they add.
BP's Chief Financial Office told the Sunday Times:
"We have got flexibility in our program to trim into next year if that's what we need in a new world of oil at $70 or $60, or whatever the number is."