Britain must prepare itself for a future where driverless cars interact with manually-driven vehicles, said a group of MPs.
The Commons transport committee said that the country is not ready yet and it needs a "visionary strategy" to embrace advancing automobile technology.
Jaguar Land Rover is set on producing self-driving cars within a decade.
But the company said that the UK Government must ensure the country is ready for them.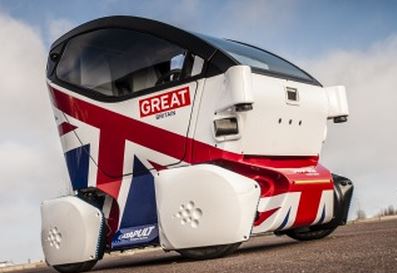 The LUTZ Pathfinder driverless car. 
Jaguar Land Rover will produce an intelligent vehicle within the next ten years
JLR said in evidence to a House of Commons inquiry into road safety:
"Our vision is to offer a choice of an engaged or autonomous drive.
"Driving in the future will still be fun.
"Ultimately this could mean the car could drive itself if the driver chooses, and have intelligent systems that can be adjusted for a more engaging and involved drive.
"A Jaguar Land Rover Intelligent vehicle will become a reality within the next ten years."
JLR also said that driverless vehicles could significantly reduce road deaths.
The government has to do more to prepare for the introduction of driverless cars
Commons transport committee Louise Ellman said:
"The public need to be sure that new types of vehicles are safe to travel on our roads.
"The Government must do more to prepare for a transition period where manual, semi-autonomous and driverless vehicles will share UK roads.
"Transport ministers must explain how different types of vehicles will be certified and tested, how drivers will be trained and how driving standards will be updated, monitored and enforced."
She also pointed out that issues such as who would be responsible in the event of a driverless car crash have to be resolved.
Ellman told the BBC:
"Who is liable? Is it the manufacturer of the vehicle, or the technology in it? Is it the driver?"
Problems of a transition period
AA president Edmund King said:
"There is a potential nightmare scenario whereby robotic driverless cars are fighting for space with cars with humans behind the wheel and indeed semi-autonomous cars with no-one totally in control.
"We really need a safe vision for the future whereby all vehicles and all road users can coexist in harmony.
"This vision will entail Government, manufacturers, insurers and indeed drivers agreeing the way ahead."
Public safety is the first priority as the UK adapts to new motoring technology, says Department for Transport
A spokesman for the Department for Transport said:
"Public safety is our first priority as we adapt to advances in motoring technology."
"We have a comprehensive approach to ensure the UK is at the cutting edge of developments."
"We are working closely with industry to progress driverless car technology, demonstrated by our recent announcement that the UK is uniquely positioned to lead the way in safely testing these vehicles on public roads," he added.