IAG returned to profit in 2013, thanks to British Airways and Vueling, the Spanish budget airline. International Airlines Group (IAG), which owns British Airways, Iberia and Vueling reported a profit of €527 million ($723 million), compared to a loss of €613 million ($841 million) in 2012.
Iberia, the Spanish carrier reported another loss. However, the company says it has made "huge progress" as a result of restructuring.
Its operating loss fell to €166 million ($227 million) in 2013 from €351 million ($481 million) in 2012.
Iberia has dropped routes, laid off 3,100 employees and implemented cuts in pay. In recent weeks IAG has agreed deals with cabin crews and pilots on productivity and wages. Agreements with ground staff are still pending.
British Airways
Extra slots at Heathrow Airport in London have helped push British Airways (BA) profits upward. BA also introduced the 787 and A380 into its fleet, which performed well. BA's 2013 operating profit surged 73% to £651 million ($1.089 billion).
BMI (British Midland International) was integrated into British Airways.
Vueling
Low cost Spanish carrier Vueling, which was acquired in April 2013, registered an operating profit of €137 million ($188 million).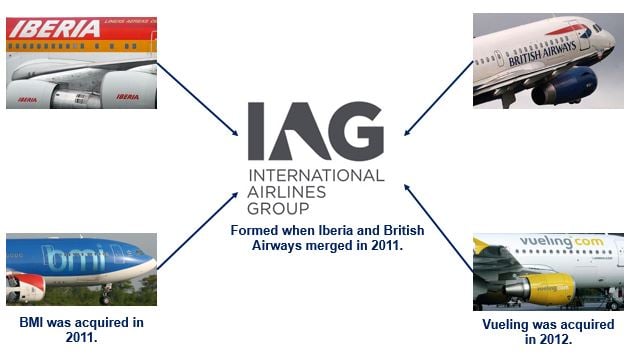 IAG is the 7th largest airline int he world.
Good IAG figures, but growth slowing
IOG's target for 2015 is an operating profit of €1.8 billion ($2.47 billion). Although IOG's operating profits for 2013 met analysts' expectations, their rate of improvement has slowed down.
Below are some highlighted results issued by IAG today:
Before exceptional items, Q4 2013 operating profit was €113 million, compared to a loss of €40 million in 2012.
In Q4 2013, non-fuel unit costs fell 2.7% and passenger unit revenue rose 2.7%.
2013 operating profit before exceptional loans was €770 million compared to €23 million in 2012.
Revenue for 2013 was €18,675 million.
Passenger unit revenue rose by 0.6%.
Fuel costs for 2013 were €5,951 million compared to €6,101 million in 2012, a fall of 2.5%.
Non-fuel costs for 2013 were €11,954 million (before exceptional items).
A turnaround of almost €800 million
IAG's CEO Willie Walsh said:
"In 2013, we strengthened the Group by acquiring Vueling, embarking on Iberia's transformation and enhancing British Airways' revenue performance. This has led to a strong financial recovery and return to profitability with a turnaround of nearly €800 million. Our operating profit was €770 million before exceptional items, with passenger revenue up 5.8 per cent and non-fuel costs down 0.7 per cent."
"British Airways continued its solid revenue performance this year and we're seeing cost improvements, resulting in an operating profit of €762 million. This is the first full year that it's benefited from the additional Heathrow slots and greater network flexibility created by BMI's integration. Both the A380 and Boeing 787 were introduced into the airline's fleet successfully. The new aircrafts' economic and environmental performance has been excellent and customers love them."
"Iberia has made huge progress on cost control as its restructuring takes shape and great credit should be given to all those involved. It has reduced its losses in the year, reporting an operating loss of €166 million. The recent pay and productivity agreements between Iberia and its pilot and cabin crew unions are key to reducing the airline's costs further and providing the foundation for profitable growth."
"Vueling is a great asset and provides a new cultural dimension to IAG. The airline reported an operating profit of €168 million from April 2013, when we acquired it, and expanded its network across continental Europe. To increase capacity while improving profit margins is a tremendous achievement and underlines Vueling's value to the Group."
Bloomberg Businessweek quoted Oliver Sleath, an analyst at Barclays PLC, London, who said "These are solid results. "Hopefully we will see some growth at Iberia this summer, although IAG still needs to finalize the business plans and get the union deals ratified."
About IAG (International Consolidated Airlines Goup)
IAG is a British-Spanish airline holding company with headquarters in London, England; it also has offices in Madrid, Spain.
IAG was formed in 2011 by a merger of the flag carriers of the UK and Spain, British Airways and Iberia. It is the third largest airline in Europe and the seventh worldwide.
In 2012 IAG bought British Midland International from Lufthansa. In 2013, IAG acquired Vueling.