The British Cabinet has agreed its collective position regarding future EU negotiations. According to Prime Minister Theresa May, the British proposal will create an EU-UK free trade area. This area will establish a common rule book for agricultural products and industrial goods.
Regarding the common rule book, Theresa May said:
"This maintains high standards in these areas, but we will also ensure that no new changes in the future take place without the approval of our Parliament."
"As a result, we avoid friction in terms of trade, which protects jobs and livelihoods, as well as meeting our commitments in Northern Ireland."
The Cabinet has also agreed on a new customs model. The Prime Minister described it as 'business-friendly.'
Britain will be free to strike new trade deals with non-EU countries and regions across the world.
In a press release, the Prime Minister's office's website announced:
"Now we must all move at pace to negotiate our proposal with the EU to deliver the prosperous and secure future all our people deserve."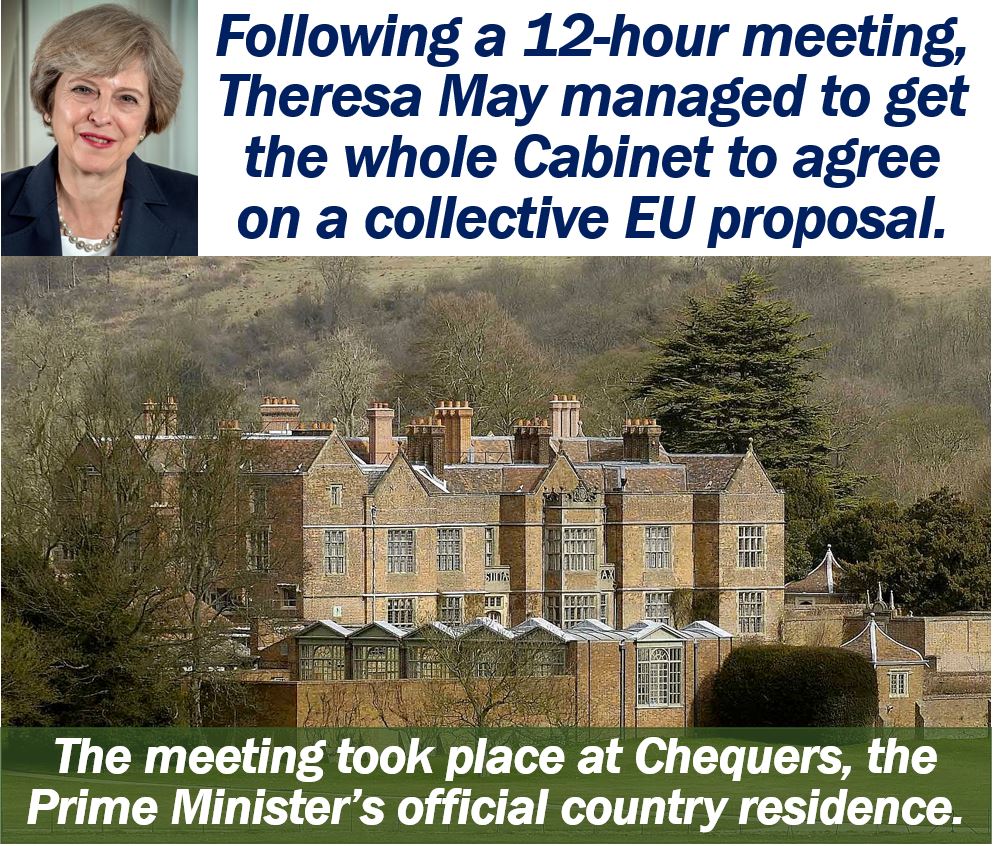 May shows British Cabinet who's boss
What the Prime Minister achieved at Chequers yesterday was both impressive and extraordinary.
She persuaded her Cabinet to sign up for a Brexit plan which challenges the Pro-Brexiteers' definition of Brexit. Especially Boris Johnson's and Michael Gove's definition of Brexit during the 2016 referendum campaign. BREXIT stands for BRitain EXITing the European Union.
Chequers or Chequers Court is the UK Prime Minister's country residence. It is a 16th-century manor house located near the village of Ellesborough.
In an ITV.com article, Robert Preston wrote:
"What is more, at Chequers yesterday, Gove was a cheerleader for a plan that would enshrine in treaty what is supposedly anathema to his Brexit cause – that the UK now and forever would be subject to European Union rules and regulations governing the quality and safety of the goods we make and buy and also the food we produce and consume."
No dissent from Johnson
While not jumping up and down with joy, Johnson, aware of a consensus among Cabinet members, did not dissent. The consensus was that there is no better alternative to what Theresa May proposes.
According to Nicholas Watt, political editor of BBC Newsnight, the Prime Minister warned:
"It will be a problem [if there is any attempt] to water down plans even further [if the EU turns down Britain's proposal]."