We were warned that British consumers would lose confidence big time if we voted for Brexit – Britain Exiting the European Union – but we still chose to leave the trading bloc regardless. We were told the pound would fall and business confidence would suffer, but we still went ahead.
Now, all those warnings are coming true – the pound is today worth 11% less, business confidence has plummeted, the Purchasing Manager's Index has declined, and consumer confidence saw its biggest fall in 26 years in July.
GfK's Consumer Confidence Index plunged by 11 points in July. In early July it dropped significantly, and then continued declining more slowly during the rest of the month.
Since 2012, British consumers had been becoming increasingly confident. This changed as the referendum date approached, and plummeted immediately afterwards. (Image: gfk.com/fileadmin)
British consumers much more concerned now
The authors of the Index say that since the 23rd June, when Britons voted for Brexit, there has been a significantly higher level of concern among consumers in the UK.
Each of the key measures that make up the Index have gone negative, especially our expectations for the British economy during the next 12 months.
---
---
Britons have also become pessimistic about the state of their personal financial situation.
Head of Market Dynamics at GfK, Joe Staton, says:
"Consumers in post-Brexit Britain are reporting higher levels of concern this month. We've seen a very significant drop in confidence, as is clear from the fall in each of our key measures, with the biggest decrease occurring in the outlook for the general economic situation in the next 12 months (-19 points)."
"Although the rate of decline is slower than reported in the aftermath of the vote to leave the EU, consumers in the UK were also less optimistic about the state of their personal financial situation going forward (-9 points)."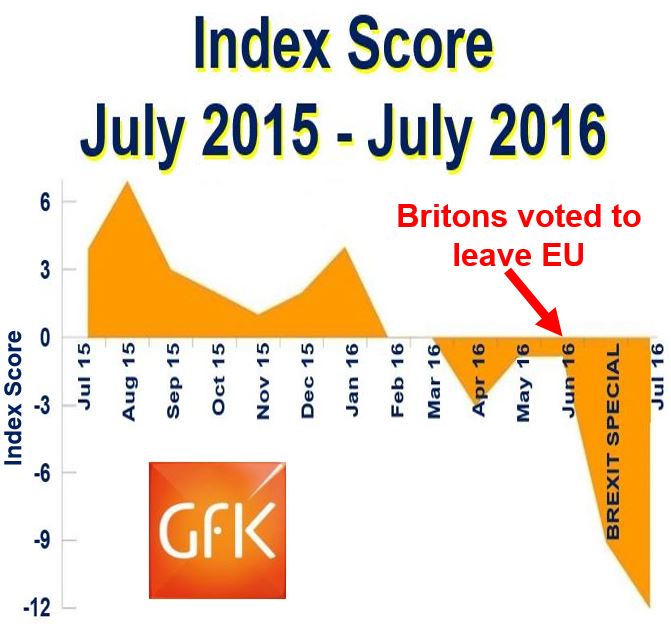 Source: GfK Consumer Confidence Barometer on behalf of the European Commission. (Image: gfk.com)
"However, the Index continues to remain at a relatively elevated level by historic standards. Its future trajectory depends on whether we enter a new period of damaging economic uncertainty or restore confidence by embracing a positive stance on negotiating a new deal for the UK."
UK Consumer Confidence Measures: the Overall Index Score has decline by 11 points since June. It now stands at (minus) -12.
A Brexit Special Survey at the beginning of this month reported a 9-point drop – since then it has fallen by another 3 points.
---
---
Personal Financial Situation: has decreased by 7 points to (minus) -1, which is five points lower than the same month last year.
How people see their personal finances progressing/regressing over the next twelve months is nine points down – now standing at (minus) -1, which is seven points lower than in July 2015.
General Economic Situation: has plunged by 12 points to (minus) -25, which is twenty-four points lower than this month last year.
Consumers' expectations for the general economic situation over the next twelve months saw a 19-point deterioration to (minus) 33, which is thirty-two points lower than twelve months ago.
Major Purchase Index: decreased by 11 points to (minus) -2, which is thirteen points below July 2015's figure.
When consumers are pessimistic about their current and future personal finances they tend to spend less. The British economy – GDP (gross domestic product) – relies heavily on consumer spending. In fact, about 60% of GDP relies on consumer spending.
When consumers spend less, businesses sell less. When businesses sell less they make less money. This affects expansion projects and eventually jobs.
Tough times ahead for Britain?
All these negative statistics that are beginning to emerge after the Brexit vote suggest that the British economy is in for a very tough time. How long this will be difficult for is anybody's guess.
If we can agree to a trade deal with the EU which gives us access to that market, things should improve as rapidly as they went downhill.
Getting the trade deal we want will not be easy. Britain wants access to the EU market without signing up to the free movement of people. The EU says that without the free movement of people there won't be any deal. Who will blink first? The EU is also suffering as a consequence of the Brexit vote.
Any deal with the EU is years away. This means years of investor reluctance. Investors require stability – they need to look ahead and make calculated guesses before investing their money. As long as Britain's future looks uncertain, investment will be much lower than what we have been used to.
Video – Economic confidence down post Brexit