British Prime Minister David Cameron's pledge to restore defence spending must be fulfilled urgently, said former forces chief Air Chief Marshal Lord Stirrup, otherwise we will look weak in Russian eyes, a country whose ambitions have become alarming to western nations.
If Britain and its allies look weak in the eyes of Russian President Vladimir Putin, his dream of clawing back the former Soviet satellite states will grow, Lord Stirrup fears.
Lord Stirrup said Vladimir Putin is testing the resolve of Nato members in the stand-off in Ukraine, as well as the dramatic increase in intimidating flights by Russian air force planes, including bombers, close to UK air space.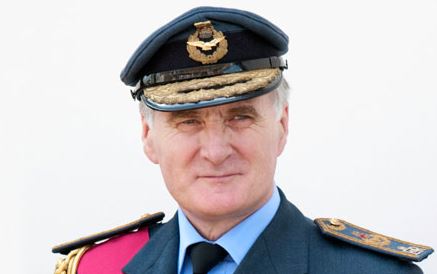 Air Chief Marshal Lord Stirrup says this is not the time to look weak in Russian eyes.
UK should supply arms to Ukraine
Lord Stirrup believes the UK should seriously consider supplying arms to the Ukraine government so that it can defend itself against the superior, Russian-supplied firepower of the separatist rebels.
In an interview with Sky News, Lord Stirrup said:
"My concern is that Nato is not spending enough resource on defence. If Nato is weak or is perceived to be weak by Putin then the risk of miscalculation is much greater and our security is much lowered as a result."
The UK's "swingeing cuts" to defence spending have left the country's armed forced right on the edge, he said, and must be reversed.
Lord Stirrup said:
"The 2010 defence review was predicated on defence expenditure increasing in real terms every year after 2015. The Prime Minister acknowledged that when he announced the outcome of the review in the House of Commons."
"We now have to make sure that those undertakings are kept. It was important in 2010. It is much more important now."
Russia is testing UK and its allies
Russia is probing the UK's defences by sending long-range Bear bombers close to the country's air space, Lord Stirrup said. These flybys are becoming more aggressive. "These aircraft – Russian Bears for example – are not going on these very flights simply as joy rides. They are mission rehearsals."
"They are testing us, they are testing our defences, they are testing our reactions and they are engaging to a degree in a game of chicken, and that's very dangerous. So, we are seeing the possibility of mid-air collision not between, I think, RAF and Russian aircraft but between Russian aircraft and civilian aircraft increasing," Lord Stirrup said.
In 2005, Vladimir Putin described the collapse of the Soviet Union as "the greatest geopolitical catastrophe" of the 20th century.
Former Defence Secretary Dr. Liam Fox said the UK and its allies should start supplying the Ukrainian government with sophisticated weaponry. The credibility of the entire NATO alliance is at stake, said Dr. Fox.
In a BBC Radio 4 Today programme Dr. Fox said:
"Specifically what we should be giving them is encrypted communications because at moment the old systems that they are using make them a sitting target for the Russians whose technology is much bigger."
"Secondly, they need anti-tank weapons because the Russians are using new, better-armoured vehicles against which the Ukrainians have no defence. Thirdly they need UAVs (unmanned aerial vehicles) for targeting."
"We should be giving them the weapons they need to defend themselves against an external threat. This is about their territorial integrity."
Americans considering supplying arms
So far, the UK and its European allies have balked at the prospect of arming the Ukrainian government, fearing that it could exacerbate the conflict. US President, Barak Obama, has said he is now considering supplying weapons if Russia does not pull back.
Russia says it has not sent any help to the separatist rebels, but compelling evidence shows that Vladimir Putin is lying.
Earlier this week, Defence Secretary Michael Fallon said Mr. Putin could use the same tactics to destabilize Lithuania, Latvia and Estonia. These countries, unlike Ukraine, are Nato members.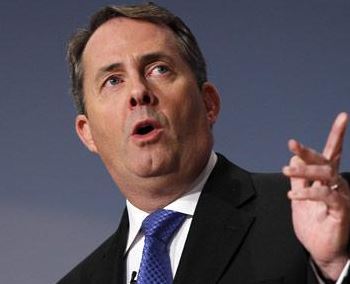 Dr. Liam Fox believes we should be supplying the Ukraine government with sophisticated military equipment.
Dr. Fox said:
"It has actually brought the shadow of conflict to the European continent, certainly for the first time since the fall of the Berlin Wall. This is a very serious issue. It is also about the credibility of Nato and the Western alliance. I think the defence of the Baltic, for example begins in Ukraine."
"Here is an alliance where only four of its members meet its defence obligations in terms of spending. They all want to have the insurance policy but they don't want to pay the premiums."
"I think that we now need to examine exactly what Nato is going to be doing in this crisis, what its credibility is."
"Will we now step up to the mark, will we put a military presence in the Baltic states, beef up the Baltic air patrols and recognise that we are getting close to a position where Russia is now going threaten Nato in its own territory?"
Further sanctions within days
John Kerry, US Secretary of State, who described Russia's conduct as "simply unacceptable," believes there will be agreement among the US and its allies regarding further international sanctions within the next few days.
After talks in London with Foreign Secretary Philip Hammond, Mr. Kerry told reporters:
"Russia has engaged in an absolutely brazen and cynical process over these last days. We know to a certainty what Russia has been providing to the separatists, how Russia is involved with the separatists."
"This is behaviour that is completely counter to everything that the global community has worked to achieve since World War II."
Mr. Hammond said the ceasefire agreement signed in Minsk had been "systematically breached,". He added "We are going to talk about how we can maintain European unity and US-European alignment in response to those breaches."
Video – Kerry says "US not playing this game with Russia"