While science at British universities would overall lose out from Brexit – Britain Exiting the European Union (EU) – a Lords Science and Technology Committee's report appears to suggest that companies, especially the large ones, might be better off. Currently, British companies come out badly regarding EU science funding compared to UK universities and companies in other EU nations.
According to the report, British universities benefit considerably from EU membership, while businesses lose out – as far as science is concerned.
While the UK's total contributions to the EU are considerably higher than what it receives, it gets more funding for science than it contributes. Brexit supporters could argue that we could use some of the savings made by leaving the EU to increase science funding. (Image: publications.parliament.uk)
Apart from EU funding, the report also looked at other aspects of EU membership, including the ability to collaborate on major projects, and the freedom of movement of researchers.
Some innovative research suffers from EU regulations
The report also highlighted some negative aspects of Britain's EU membership, such as restrictive European regulations that undermine innovative research.
---
---
The authors concluded, however, that Britain could lose strategic influence on EU science policy if voters decide to leave the trading bloc.
Chairman of the Committee, the Earl of Selborne, said:
"The UK science community places a high value on the UK's membership of the EU. Collaboration, funding, facilities and policy make EU membership a key part of the UK's outstanding science base, and this report looks at these areas in detail."
"Our aim was to present a much clearer picture of the position of UK science within the EU, but we had to cut through a dense 'Eurofog' of claim and counterclaim on many aspects of membership in order to do so."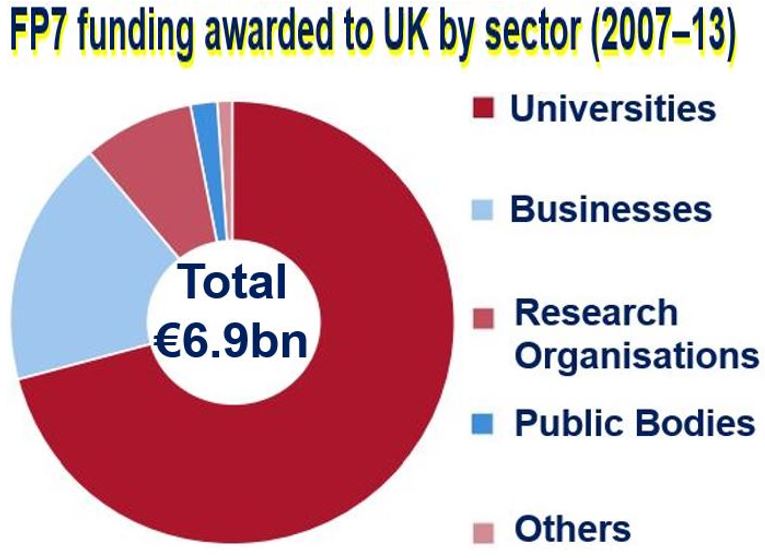 Even though businesses represent 64% of all science funding in the UK, companies get a tiny amount of money from the EU in science funding. If you look at the image below, EU funding is negligible compared to the UK's total funding on science projects. (Image: publications.parliament.uk)
The report authors pointed out that while several witnesses claim that Britain is a top performer in the race for R&D funding, the overall picture is not so simple.
British universities have outstanding performance regarding EU funding competitions. Businesses, however, especially large companies, have very low levels of participation. Britain does not receive a high level of funding from the EU for scientific capacity building.
---
---
The Earl of Selborne added:
"We urge the Government to benchmark the level of support it provides for businesses, large and small, wishing to participate in EU programmes against that available in other member states. We want to see Government plans for raising UK performance."
"There was further confusion over major scientific facilities – some of which are operated by EU institutions while others – such as CERN – are simply located in continental Europe. Both sides of the debate need to be clear on such detail."
The Committee members said it is clearly evident that British science gains competitive advantage from the easy access and close proximity to facilities across Europe. Collaboration between scientists living in EU and non-EU states provide further valuable advantages for the UK.
EU sourced funding for UK science projects is tiny compared to the country's total expenditure. (Image: publications.parliament.uk)
Regarding regulation and scientific advice, regulatory harmonization with the EU benefits the UK in some areas, including clinical trials. However, the Committee members said they heard passionate arguments that UK research is put at a disadvantage compared to its non-EU rivals because of EU regulations.
Some of the Report's highlights
Funding: Almost one-fifth (18.3%) of all Britain's incoming EU funding goes on scientific R&D.
The EU's main funding system for science rewards excellence. The Committee heard that Britain is one of the EU's top performers regarding securing these competitive funding streams. This situation differs, however, when the EU is considering funding for building capacity in science and research.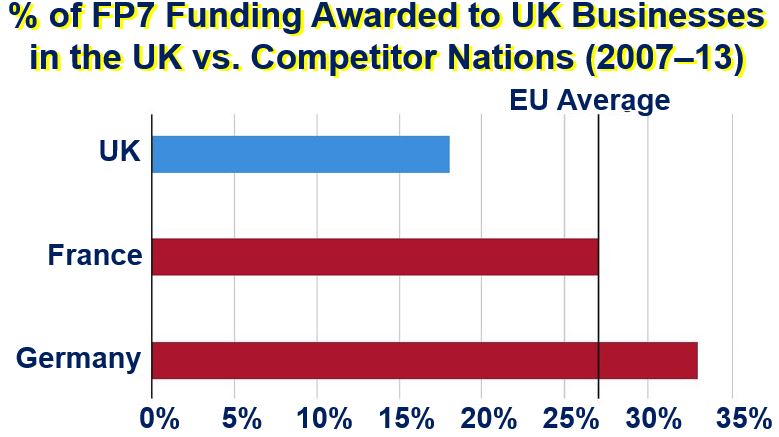 UK businesses get proportionally much less EU (FP7) funding compared to France, Germany and the EU average. (Image: publications.parliament.uk)
Business Funding: the Report authors expressed concerned about the poor level of engagement by large companies in securing EU funding. The UK is well below the EU average and lags behind rival nations such as France and Germany.
As sixty-four percent of R&D in Britain is conducted by businesses, this is a significant failing in the current set-up.
Collaboration: the Committee members heard that the collaborative opportunities are possibly the most significant benefit that EU membership offers science and research in Britain.
However, the authors point out that among Britain's top five collaborative partners, two are non-EU states (Australia and the United States).
Freedom of Movement: the authors heard countless claims that the ease with which top scientists and researchers can move across the EU, including the UK, is a major advantage for our country's scientific community.
This freedom of movement benefits UK science enormously, and should be preserved, the authors emphasized.
Regarding Brexit, the Committee members wrote:
"The Committee examined the implications of alternatives to the UK being a full EU Member State. One example would be becoming an Associated Country."
"The inquiry heard that the UK would still be able to receive EU funds, and would continue with involvement in European and international scientific projects, but many thought that it would no longer have the same level of high-level strategic influence."
"The Committee concluded that further investigation is necessary to ascertain how Brexit might impact our currently influential position in Europe."
In a letter to The Times, Professor Stephen Hawkins and 150 other British scientists warned that Brexit would be a disaster for British science.
Video – Brexit and British Science
Two scientists, one pro-EU and the other pro-Brexit, talk about what the EU (or lack of it) means for British science. This BBC Newsnight interview occurred before the Lords Committee report was published.