Good progress is being made in getting broadband coverage to as many households as possible in Scotland, says Audit Scotland, however, making sure all rural areas are also covered remains 'a challenge'. In its race to get virtually the whole country connected to rapid broadband, towns and cities are now well serviced, but rural areas won't be so easy.
The Highlands and Island Enterprise (HIE) and the Scottish Government are making excellent progress, a new report informs.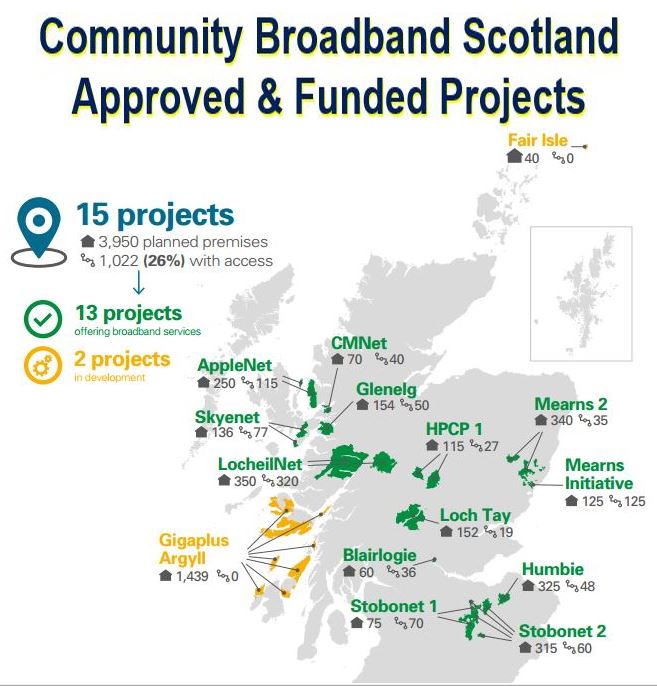 So far, most work has focused on urban areas. From now on BT will have to find ways of getting rural areas connected to fast broadband, that won't be so easy. (Image: audit-scotland.gov.uk)
Broadband target for 2020
The Scottish Government aims to make sure that every resident across Scotland has access to the Internet at any time and on any device by the end of this decade.
To help turn this aim into reality, British multinational telecommunications services company BT was appointed to extend the country's existing fibre broadband network in 2013, at a cost of £412 million.
---
---
Audit Scotland has been monitoring the progress of the roll-out as well as the Scottish Government's digital infrastructure vision.
According to Audit Scotland's updated report, in March 2016, 2.2 million out of 2.6 premises across the country had access to fibre broadband, i.e. eighty-six percent of all households. This exceeded the Government's original target by one percentage point.
In its latest report, Audit Scotland wrote: "More could be done to address the recommendations in our previous report on the roll-out of broadband. Specifically, there is scope to enhance public reporting of performance information to help assess the success of the investment, including speeds and level of takeup achieved." (Image: audit-scotland.gov.uk)
95% coverage by end of 2017
If BT continues meeting its contractual targets, the Scottish Government should expect to meet its target of 95% coverage by December 2017.
---
---
However, work so far has concentrated on areas that are easier to reach. Much of the remaining regions – rural and remote Scotland – won't be quite so easy.
Of Scotland's thirty-two council areas, contractual targets for fibre broadband coverage have been met in twenty-six. The remaining six are rural or remote areas, and will require more complicated and expensive engineering solutions.
Average speeds in rural areas are currently considerably slower than in towns or cities.
---
.@scotgov and @HIEScotland #broadband roll-out has made good progress, but challenges remain https://t.co/HHspZ1rlHG pic.twitter.com/B8ugsFJsHn

— Audit Scotland (@AuditScotland) 18 August 2016
---
World class digital infrastructure
Audit Scotland says there is still much to do if the Scottish Government is serious about ensuring that the country has a world class digital infrastructure by the end of the decade.
Caroline Gardner, Auditor General for Scotland said regarding fast and reliable Internet access:
"Fast, reliable internet access is increasingly essential for everyday life, so it's encouraging to see good progress being made in rolling out fibre broadband."
"However, there is a lot still to be done by the Scottish Government if it is to achieve its vision of a world class digital infrastructure, particularly in improving download speeds in rural areas. It's important that it continues to monitor the cost and progress of broadband rollout so that these communities aren't excluded."