BT Group received regulatory approval for the takeover of mobile phone network EE from the UK Competition and Markets Authority (CMA) on Friday.
The CMA said that it doesn't believe the merger will harm competition in mobile and broadband markets.
The deal, worth £12.5bn, combines the UK's largest mobile operator with the country's largest fixed-line business.
However, the CMA believes that the combined entity would not harm competition given BT's small presence in mobile and EE being a "minor player" in the broadband market.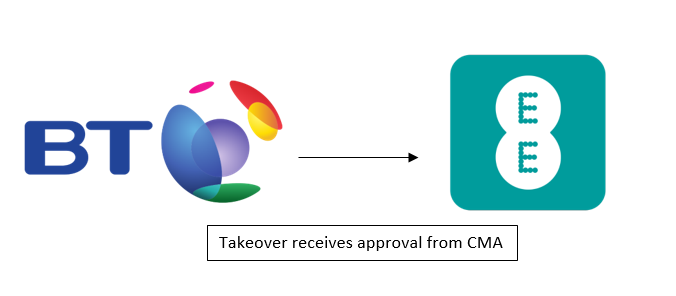 John Wotton of the CMA said: "Since our provisional findings, we have taken extra time to consider responses in detail but the evidence does not show that this merger is likely to cause significant harm to competition or the interests of consumers.
"The retail mobile services market in the UK is competitive, with 4 main mobile providers and a substantial number of smaller operators. As BT is a smaller operator in mobile, it is unlikely that the merger will have a significant effect. Similarly, EE is only a minor player in retail broadband, so again it is unlikely that the merger will have a significant effect in this market.
"We have also found that in supplying services such as backhaul, wholesale mobile or wholesale broadband services a combined BT/EE would not have both the ability and the incentive to disadvantage competitors such that there would be significant harm to competition."
BT chief executive Gavin Patterson said:  "It is great news that the CMA has approved our acquisition of EE. We are pleased they have found there to be no significant lessening of competition following an in-depth investigation lasting more than ten months.
"The combined BT and EE will be a digital champion for the UK, providing high levels of investment and driving innovation in a highly competitive market. I have no doubt that consumers, businesses and communities will benefit as we combine the power of fibre broadband with the convenience of leading edge mobile services. I look forward to welcoming EE into the BT family."
---
---
According to Ofcom, BT has 31% market share of the UK fixed-broadband market and a 37.6% share in UK home phone traffic, while EE currently has a 33.8% share in the mobile market.
Some companies in the telecom industry believe that the combined company would simply be too big to compete with.
Rival TalkTalk said: "We are disappointed, although not surprised, that the CMA has waved through the BT/EE merger, even though the new entity will be even more dominant than it was before privatisation 30 years ago,"
Openreach
John Wotton of the CMA added: "We have heard wider concerns about the sector, including about Openreach and its regulation by Ofcom. Our job has been to examine the specific impact of this merger on competition and consumers and, where relevant, we've looked at how these issues might be affected by the merger. There is also an ongoing Ofcom review into the sector and its future regulation, where such concerns may have more relevance."
Openreach is a subsidiary of BT which owns the pipes and telephone cables that connect nearly all businesses and homes in the UK to the national broadband and telephone network.
EE rival Vodafone said: "We are reviewing the CMA's document in full. As previously stated, we believe it is imperative that the wider market concerns relating to BT Openreach raised by a number of parties and recognised by the CMA, need to be thoroughly scrutinised by Ofcom."
Telecoms analyst Dan Howdle was quoted by Mobile News as saying:
"The CMA believes the new merged company is, by default, financially incentivised to continue to supply wholesale services to other providers (Virgin Mobile, for example runs on the EE Network), which will prevent it from closing its doors to third-party operators in an attempt to monopolise its own network infrastructure.
"The greatest concern for its competitors, then, is that, though unlikely – as the CMA points out – no firm measure has been put in place to actively prevent it."
---
Video – What is takeover?
A takeover occurs when one company acquires another. It is not the same as a merger, which is like a marriage of equals.
---