The BULLET is a beautiful, ultra-elegant, hand-made luxury sports car – with a top speed of 155mph – that British car manufacturer Bristol Cars has just launched. It is the company's first new vehicle in thirteen years.
This 'sublime British sports car' will not come cheap. According to Bristol Cars Ltd., based at 368-370 Kensington High Street, London, it will, however, cost less than £250,000. The company says that only seventy BULLETS will be built.
The new sports vehicle celebrates the company's 70th anniversary. The carmaker is the result of a WWII airplane maker which split into two firms when the war was over – the aircraft maker eventually became British Aerospace and the carmaker Bristol Cars. In this new sports car you will find hints of aircraft-inspired design cues.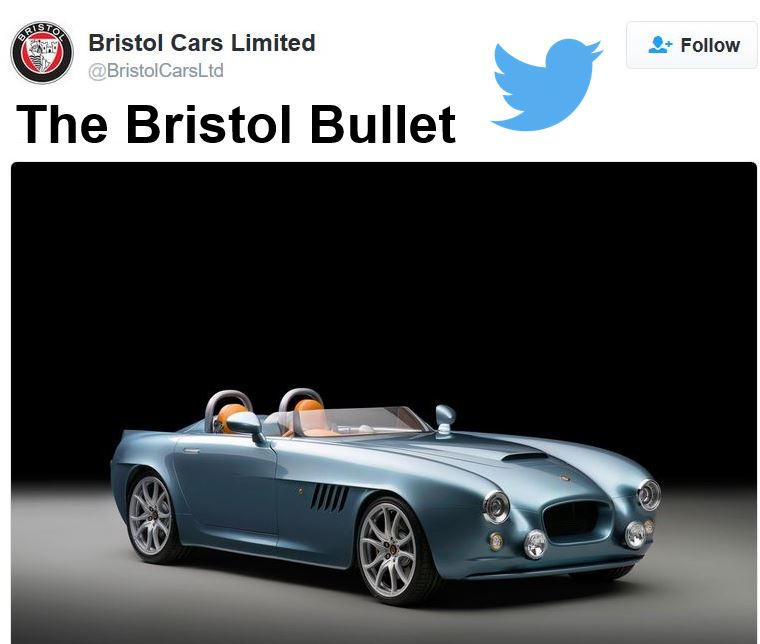 Shown at Bristol Cars' recently refreshed Kensington showroom, the BULLET is the first new car to emerge from the company since it was rescued from administration five years ago. (Image: twitter.com/BristolCarsLtd)
A small & exclusive carmaker
The company started hand-building luxury vehicles in 1946 in Filton, Gloucestershire, as a division of the Bristol Aeroplane Company. It built a reputation for the excellent quality of its craftsmanship and chose to stay small and exclusive, rather than break into the mass market.
Included among its impressive list of high-profile customers are Liam Gallagher, Bono and Sir Richard Branson.
---
---
According to Bristol Cars:
"The BULLET is a reference to Bristol Cars' rich and exciting heritage, executed as a modern example of the best of British craftsmanship and engineered to excite as a high performance Bristol car."
"Underpinning the BULLET is a BMW V8 powerplant. The result is a sublime British sports car with characteristics uniquely cultured for the first new Bristol in thirteen years."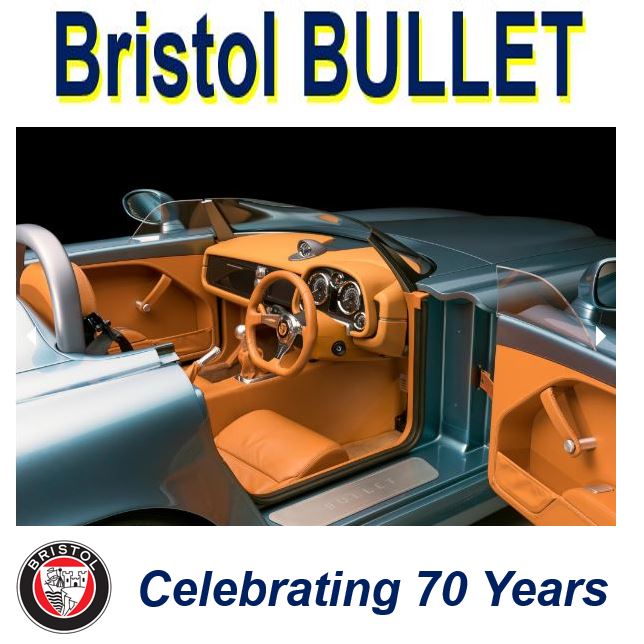 The BULLET's power is sourced from a naturally aspirated 4.8-litre BMW V8, producing 400 bhp. (Image: Bristol Cars Ltd.)
"Bristol BULLET signifies the re-birth of the brand with a design and character respecting the company's rich British heritage – in aviation, commercial and luxury automotive – delivered with a contemporary approach to performance and comfort."
The Bristol BULLET
The Bristol Bullet, also known as simple the BULLET, has a top speed of 155mph and can go from zero to 62mph in 3.8 seconds.
---
---
Its creators have used carbon fibre composites for the body to give it both a light weight as well as strength and rigidity.
Its V8 Hercules engine is manufactured by Bayerische Motoren Werke AG (English: Bavarian Motor Works), better known globally under its abbreviation BMW.
The dashboard contains a touch screen embedded within it. This amazing car even has a button you can press if you want direct access to Bristol Cars' showroom in Kensington – its only showroom.
The vehicle was developed under the codename Project Pinnacle, following the discovery of a prototype hidden under a dusty tarpaulin in a factory.
Bristol Bullet Press Pictures @bigwhitevanfame @ianjbeattie @MitsiArt @PetrolHers @Prescott2014 @ProfessorTeresa pic.twitter.com/BU0jbsBGhW

— Electric Blue (@Only9built) July 28, 2016
Although Bristol Cars explains that it was penned in collaboration with 'an Italian styling house', it does not wish to reveal which styling house. The company also points out that the new sports car references 'previous styling collaborations'.
Bristol Cars' General Manager, Julian Ramshaw, said:
"The Bullet celebrates 70 years of design and innovation at Bristol Cars. This unique speedster sets the tone for the future of Bristol Cars – with a focus on luxury, performance and elegance."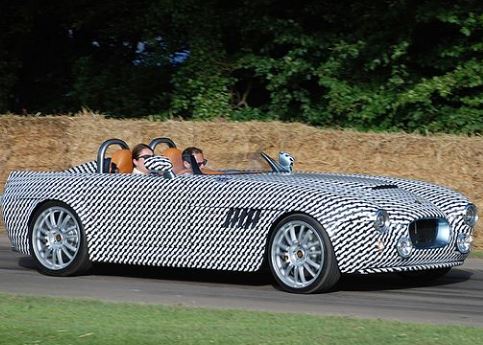 The BULLET was first shown to the public under camouflage at the 2016 Goodwood Festival of Speed. (Image: Wikipedia)
"The discovery of the prototype at the factory provided us with the perfect way to celebrate this incredible marque's 70th anniversary. Open top, highly luxurious, lightweight and full of torque, it really is the ultimate driver's car."
After going into liquidation in 2011, Bristol Cars was later reborn as a specialist restoration operation – it joined forces with Frazer Nash Research, offering full rebuild on classic Bristol models.
Production is scheduled to start in 2017 in Chichester, West Sussex. The BULLET was unveiled at The Dorchester hotel in central London.
Even though it has been around for seven decades, most people have never heard of Bristol Cars. It is one of those companies that used to build cars from scratch for specific requests from select clientele.
Back in the 1960s and 1970s it was a popular manufacturer. However, even then it only built about two hundred vehicles per year. They were so solidly built that seventy percent of its cars manufactured from 1947 are still running on UK roads.
Video – The Bristol BULLET
Bristol Cars offers the BULLET – a gift for its 70th anniversary.