In a Burberry investor revolt, fifty-two percent of shareholders rejected CEO Christopher Bailey's pay package at the annual general meeting (AGM) in London. The British luxury fashion brand acknowledged it was "a lot of money", but said the golden handcuffs worth up to £10 million ($17.1 billion) annually are necessary to keep him in the company.
Burberry, like all public companies, has a mandatory AGM once a year. Shareholder rebellions, especially regarding executive remuneration, are becoming more common across the world.
Burberry says Mr. Bailey was offered a higher salary in another company that tried to poach him last year. Chairman Sir John Peace said "it was essential that we retain Christopher in the business."
The uncommon investor revolt against large salaries may be a surprise, but it is non-binding. It is finally up to the company whether the pay policy goes through.
Mr. Bailey, who was creative director, took over from Angela Ahrendts who went to Apple Inc. Ahrendts is credited with raising Burberry's brand status to global levels. Bailey is now both CEO and Creative Director.
Burberry has a history of paying its executives huge amounts of money. Ahrendts was one of the FTSE 100's highest paid executives. She became the first female in the UK to top the country's pay league in 2012 after earning £16.9 million including bonuses, benefits and proceeds from selling bonus shares.
In her last year in the company, Ahrendts was granted early access to share bonuses worth £6.2 million and received a £2.1 million cash bonus.
Investors advised to scrutinize pay deal
Earlier this week, the Investment Management Association, whose members own approximately 15% of all stock in the London Stock Exchange, gave Burberry's executive pay deals an "amber top" rating and advised members to scrutinize pay arrangements carefully before casting their votes.
The shareholder advisory group PIRC advised shareholders to reject Burberry's executive pay policy, pointing out that Mr. Bailey's total remuneration may exceed 825% of basic salary.
On top of his £1.1 million annual salary, Mr. Baily has an annual allowance of £440,000. He was given 500,000 company shares worth more than £7 million on his appointment.
There was investor ire regarding Mr. Bailey being given 1.35 million shares before he became CEO. They disagreed with such a huge allocation which was not attached to any performance criteria. When he is allowed to sell them after a specified period, the shares will be worth £19.5 million at today's valuation.
Meanwhile, Mr. Bailey's annual income could be well over £10 million during the next five years if the company's performance targets are achieved.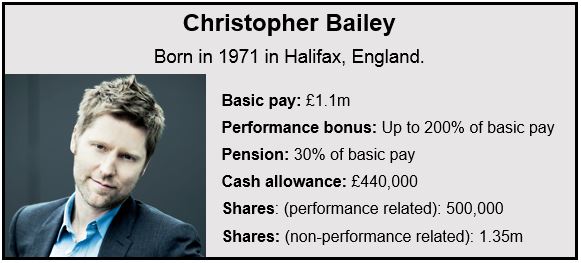 Investors were not happy with the massive allocation of non-performance related shares.
Higher Q1 revenues
Earlier this week the company announced that its Q1 2014 revenues increased by 9% (17% at constant currencies) compared to the same quarter last year. Its same-store sales rose by 12% over the same period.
However, the trenchcoat maker warned that if exchanged rates continue at their current levels, wholesale profits could be reduced by £55 million and licensing revenue by £10 million.
The company reported double-digit growth in the Asia-Pacific and Americas regions.
Mr. Bailey said:
"This first quarter performance reflects our focus on striving to give customers the best possible experience of the Burberry brand through ongoing investment in retail, digital and service, both on and offline. The 12% increase in comparable sales demonstrates our teams' success in unlocking the benefits of these investments, as we continue to concentrate on the things we can control in an uncertain external environment."