The busiest airports league table among 1,105 worldwide for 2013 remains unchanged for the top six ranked positions, with Atlanta holding first place (-1.1%) and Beijing (+2.2%) a close second and closing the gap.
London's Heathrow (+3.3%) is in third place, followed by Tokyo's Haneda airport (+3.2%) in fourth. Fifth and sixth places were held by Chicago's O'Hare (+0.2%) and Los Angeles (+4.7%).
Dubai airport climbed three places in 2013, moving to 7th from 10th place. In 2013, Dubai passenger traffic shot up by more than 15%.
Istanbul moved to 18th place after registering a 13.5% increase in passenger traffic, and Malaysia (20th) grew by 19.1%.
Hong Kong (+2.3%) was the world's biggest cargo hub, followed by Memphis (+3%) and then Shanghai (-0.3%). Incheon (+0.3%) and Dubai (+6.8%) displaced Anchorage (-1.7%) for 4th and 5th positions respectively.
Air traffic global summary
The global economy moved forward into 2014 in a vulnerable and fragile state. Economic recovery has been reported in several advanced economies. However, the Eurozone still faces several challenges and does not seem able to shake off persistently high levels of unemployment and falling inflation, while fiscal imbalances in the United States are cause for concern, economists say.
The Federal Reserve's tapering of the bond-buying stimulus program has affected some vulnerable emerging markets.
Despite these global uncertainties and downside risks, air passenger traffic has remained "resilient", according to the Airports Council International (ACI). While European airports experienced a year-on-year air passenger traffic increase of +2.9% and North America +1.1%, in emerging economies growth was much more buoyant in 2013.
In the Middle East air passenger traffic grew by 9.2%, and 7.4% in Asia-Pacific.
Global passenger traffic worldwide increased by 4% in 2013, while aircraft movements were almost the same as in 2012.
Air cargo, 2013 a slow year
Air cargo increased by a much more moderate 0.7% globally in 2013. Air cargo volume worldwide has remained fairly flat over the last three years. With the exception of the Middle East which grew by +5.1%, most regions reported relatively weak year-over-year air cargo growth rates. More than 30% of the thirty busiest cargo airports reported less volume in 2013.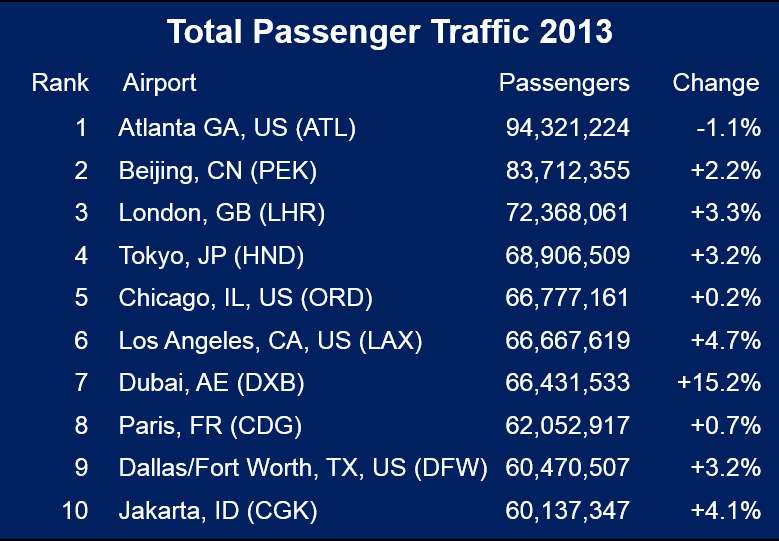 (Source: ACI)
ACI World's Economics Director, Rafael Echevarne, said:
"The airport that really makes its mark in 2013 is Dubai (DXB). Aviation's nucleus appears to be moving eastward. With double-digit growth rates in passenger traffic for 2013, Dubai is likely to move up several spots again in the 2014 rankings, solidifying its status as the major hub connecting the east and west."
"Other emerging markets such as Turkey, China and South East Asia that have a critical mass of traffic also remain major contributors to the upward surge in air transport demand. This trend will continue into 2014."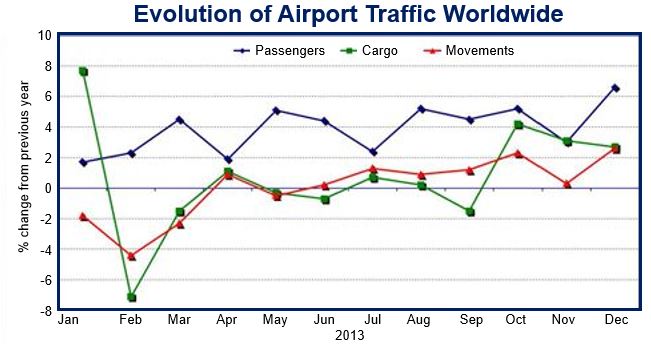 (Source: ACI)
The relationship between airlines and airports
In the often turbulent environment of the aviation industry, airports are stable providers of infrastructure assets. Even though airlines and airports are intrinsically linked and depend on each other to operate efficiently, their business models are quite different.
Airline can respond rapidly to changes in traffic flows, by retiring capacity or leasing new aircraft. Airports, on the other hand, need to make long-term planning decisions to make sure capacity meets demand; sometimes fifty years into the future.