Latin American poverty is still too high, despite countries in the region having made huge strides to lift millions from the breadline, said panelists at the World Economic Forum on Latin America in Panama City, on Thursday. The challenge today is twofold: 1. Lifting millions more out of poverty. 2. Reducing inequality.
During the last ten years, between 70 million and 90 million Latin Americans have been lifted out of poverty, says the World Bank. They have left a hand-to-mouth existence and entered the so-called "consuming classes" or "middle classes".
Inequality still very high
According to Arif Naqvi, Group Chief Executive and Founder of The Abraaj Group, based in the United Arab Emirates, of the 15 most unequal countries in the world 10 are in Latin America.
Naqvi said:
"What you have in this region, although you are achieving success, is enormous income inequality and that leads to social issues. But it is not all doom and gloom. We are aspirational and growing, and have a great future ahead of us. The opportunities are mind-boggling."
Economists and sociologists use the terms income gap and income inequality interchangeably.
Latin American poverty versus US poverty – definition
Defining poverty in low-, middle- and high-income nations can lead to ambiguity and false expectations. Somebody who is classed as on the poverty line in Switzerland may be considered as fairly well off in other parts of the world.
How we interpret and understand the term "middle classes" requires a better definition, said Brazil's Minister of Strategic Affairs, Marcelo Côrtes Neri.
Neri said:
"When we talk about middle class we think of the US middle class, with two cars and two dogs and a swimming pool. That is not Latin American middle class or the world middle class."
"Latin America, and Brazil in particular, is the middle of the world. Our PPP (purchasing power parity) income is close to the world's income distribution."
Neri explained that the changing expectations of a wealthier middle class have created a new challenge for Latin American governments. "They could become a problem for governance. They are the ones that put pressure for better levels of education and healthcare; they are the ones that go to the streets to demand rights. How prepared is Latin America to have a robust middle class?"
Who fuelled middle class growth?
The panelists also debated on who could claim responsibility for the growing middle class in Latin America.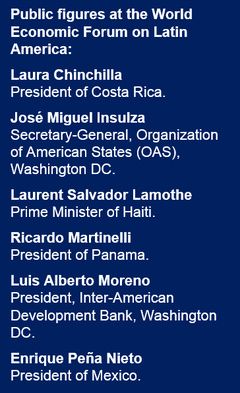 A huge number of politicians are far too opportunistic in this regard, said Luis de la Calle Pardo, Founding Partner and Managing Director of De la Calle, Madrazo, Mancera, S.C. (CMM), Mexico.
Pardo said:
"People's progress is due to their own effort. They study, they wake up early, they work hard, they go to university, they invest in assets. Only 10% is down to government programs."
Latin America and its young people
Where Latin America goes from here will be determined by the region's young people, the panelists all added. For example, in Brazil there are approximately 51 million people in the 15 to 29 year-old age group.
Neri said "This is the group I am most worried about. They have very high expectations and so the probability they will get frustrated is enormous. This group is the door of change."
Naqvi said that one of the main issues in helping bring about these changes is investment. "If you look at Latin America as a trading bloc, the key is to bring down barriers. Ease mobility of people, capital and products. The one thing every country in this region needs is more capital. Capital will flow to countries that are welcoming. Capital has no loyalty. It is a function of the returns it generates. And that is the best thing that can happen to the middle classes."
It is important that all stakeholders in the region's economic growth, poverty decline and its quest for less inequality continue fueling the positive momentum that has accumulated, the panelists said. Latin America must not become complacent.
Rafael Fernández de Castro, Chair, International Studies Department, Autonomous Technological Institute of Mexico (ITAM), Mexico, concluded "We have to have a higher sense of urgency and we shouldn't be confused."
According to the United Nations, most of the world's people living in extreme poverty reside in India and China.
---
Video – Income Inequality
---