From 2007 to 2013 the professional video market expanded 55%, from $41 billion to $63 billion, according to IHS Technology Professional Video Research. The fast growth has been mainly driven by a considerable increase in deliveries of customer-premises equipment (CPE) as pay TV goes digital.
According to IHS, "The market's expansion also has been propelled by a rise in transport services, driven by an increasing number of linear channels and nonlinear views by consumers."
Even though the factors that have fueled the expansion of the market are forecast to continue growing until the end of 2017, total equipment spending is likely to slow down considerably.
Professional video market slowing down
The IHS report notes that CPE shipment growth in several core markets in Western Europe, North America and East Asia is already slowing down.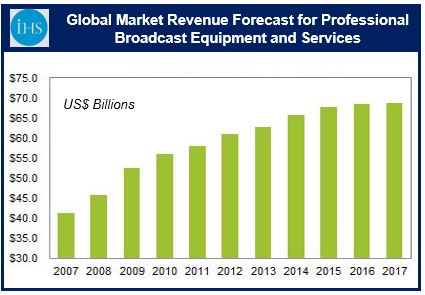 (Source: IHS Technology April 2014)
Tom Morrod, senior director for Consumer Electronics and Video Technology at IHS, predicts that the next expansion wave through 2017 will probably be driven by the provision of media-managed services, especially those involving the management of digital content, processing and transport.
The managed service segment is forecast to expand to $32 billion by 2017, and will account for almost half of the predicted $69 billion total for the professional video market.
Many small and medium companies supplying the industry
Mr. Morrod said:
"Owing to the multitude of broadcasters and pay-TV operators in each country, there is a very diverse market of small to medium companies offering solutions in the industry."
"As a greater share of industry revenue shifts toward services, we're also seeing new entrants from the information technology, telecommunications and equipment industries trying to capture some of the new video service revenue."
In 2013, the ten largest video vendors account for 28% of all market revenue. Cisco was the leading provider – it participates in a range of industries, including Internet Protocol and optical equipment and systems integration, encoders, set-top boxes, and conditional access.
The other major companies, including Samsung, EchoStar, SES, Pace and Arris/Motorola tend to focus primarily on a single market segment, such as broadband CPE, set-top boxes, and transport.
North America dependent on CPE shipments
In 2013, the dominant professional video market was North America, however, the region is dependent on CPE shipments, which are expected to slow down until 2017. Consequently, in 2017 Asia-Pacific will become the biggest single market for broadcast technology, "driven by growth in services, particularly surrounding satellite, fiber and teleport transport of increasing digital channels and content."
IHS forecasts that Western Europe will maintain stable revenues, as more processing and transport services are outsourced; this will be balanced by a fall in the value of CPE and content capture equipment.