Business confidence post Brexit gives the UK its first glimmer of hope as the ICAEW UK Business Confidence Monitor (BCM) shows a marginal recovery. Business confidence plummeted dramatically immediately following the 23rd June referendum when the Britons voted to leave the European Union.
The ICAEW (Institute of Chartered Accountants in England and Wales) says its findings highlight the urgent need for Government to provide greater certainty for business – at least in the short term. The US equivalent of Chartered Accountant is CPA (certified public accountant).
It is vital to prioritise trade negotiations, the Institute added, as well as providing an environment that encourages both short-term and long-term investment.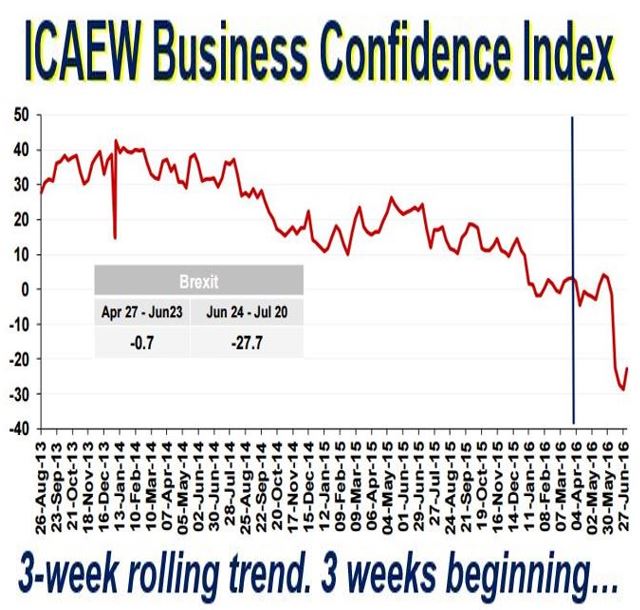 As you can see, at the end of this graph there is a hopeful upturn. Businesses and economies are strongly dependent on psychological factors. Confidence or lack of it can trigger a snowball effect that either boosts economic growth or slows it down completely. (Image: icaew.com)
The BCM Confidence Index fell 11 points, from +0.8 in the second quarter to -10.2 in this quarter.
When Britain's business and financial community woke up on 24th June to the news that the country had voted for Brexit, business confidence crashed, the stock market plummeted and the pound sterling went into freefall.
---
---
The stock market has since recovered completely, but the pound continues about 11% below its pre-vote value against the dollar. When the Bank of England's Monetary Policy Committee meets on 4th August, it is expected to vote for a cut in the Bank rate.
Since 24th June, business confidence has taken a slight but hopeful turn as businesses take stock.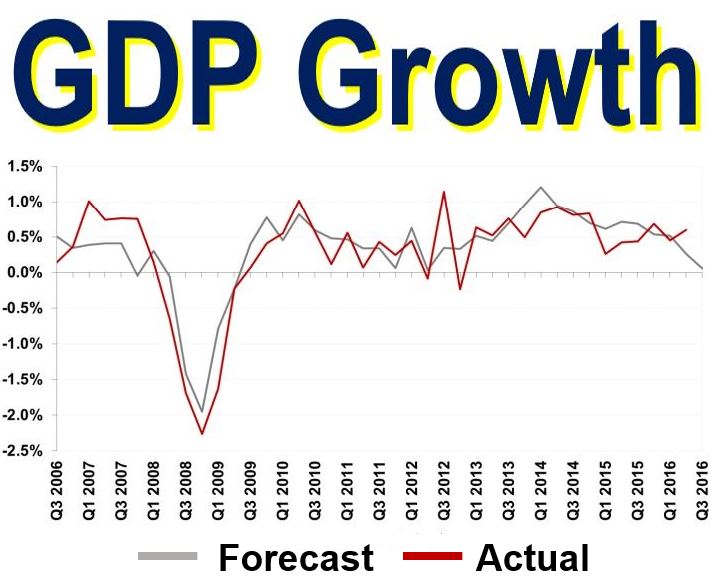 Quarter-on-quarter GDP growth. Economic growth is forecast to be just positive at +0.1% in the third quarter. (Image: icaew)
GDP growth forecast for Q3
ICAEW predicts that GDP (gross domestic product) will still continue growing in the third quarter of this year – by 0.1%.
A cheaper pound sterling is good news for exporters. ICAEW expects exports to improve 'albeit modestly'. However, it warns that domestic sales will be weaker during the third quarter.
---
---
The institute expects Q3 to see a decline in capital investments, research and development (R&D), employment growth and staff development spending.
ICAEW Director of Business, Stephen Ibbotson, said:
"UK businesses are resilient and after the political shock of the referendum result, many are just getting on with delivering their business plans and moving forward. UK plc is grateful that the new Government was established quickly but decisions will need to be made swiftly to build confidence, which has been following a downward trend for the last two years."
"Encouraging businesses to invest as well as explore new markets has to be the immediate priority for the Government whilst it develops its vision for the UK economy once we have left the EU."
"Businesses have reacted however as you would expect them to. Time will help rebuild confidence as they adapt and understand the environment, bearing in mind that the UK will still be in Europe for at least two years. Companies need to make the most of any future opportunities that may arise and we will be working with Government to ensure the UK is the best place to do business."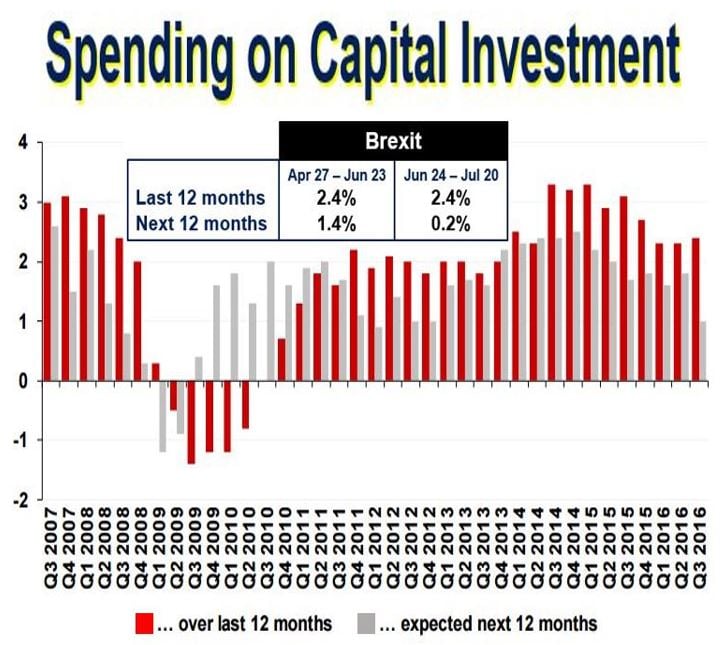 Companies in the UK are planning to reduce the growth on their spending on capital investment considerably – to under 1%, y/y. (Image: icaew.com)
Construction, Property and Transport & Storage suffer steep falls
The steepest declines have occurred in the Construction, Property and Transport & Storage sectors – manufacturing saw a smaller fall in confidence.
Manufacturing has been struggling to grow at more than a very moderate pace since 2012. As this sector is already used to low growth, it has strategies to deal with it already in place.
Even so, space capacity in businesses increased – seventy-five percent of British manufacturers reported having spare capacity.
Staff turnover and skill shortages
Compared to one year ago, problems with staff turnover and skill shortages continue to lessen. However, employment growth will slow down during the next twelve months as businesses assess the new post-referendum landscape.
Salaries are forecast to increase by just 1.2% over the coming year, which is considerably less than the pre-referendum prediction of 2%. This will be due to poor profit growth with no expected increases in selling prices.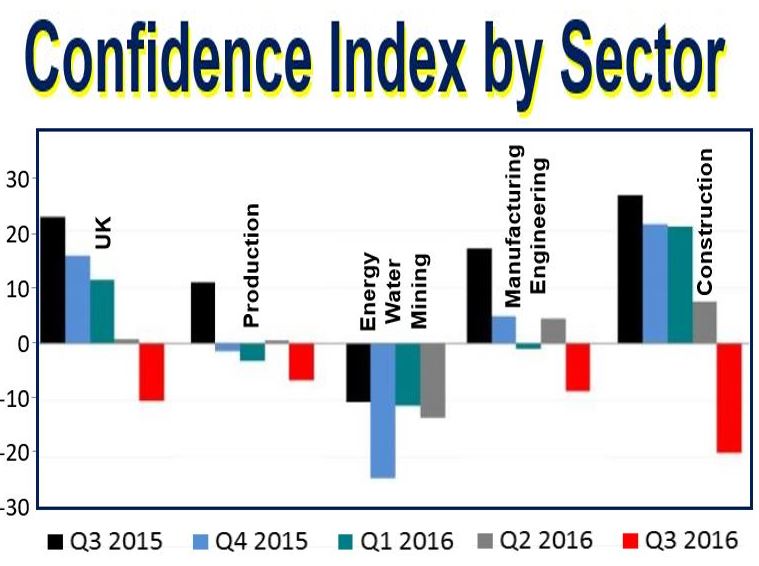 The big confidence declines are not in Finance, Business Services or Manufacturing, but in Property & Transport and Construction. (Image: icaew)
Post-Brexit confidence still negative nationwide
Confidence indices turned negative across most of England and Wales, with the exception of Humber, the North West and Yorkshire.
The steepest negative declines were reported in the South West, West Midlands, Scotland and London. Smaller companies have seen less severe confidence declines compared to large corporations, reflecting their exposure globally.
Most other statistics about the economy and confidence have been negative. The latest Markit PMI (Purchaser Manager's Index) has shown a marked move into negative territory, while British consumer confidence has also taken a hit.
Video – How Brexit affected the pound
Views from across the pond. This Fox Business video looks at how the post-Brexit-vote environment is affecting the UK, especially the pound sterling.