If you're looking to take your business online, know that a great website doesn't come easy. Your website is the digital face of your business and alongside your social media efforts, it will be the host of the most customer touchpoints in the digital realm. It is an area that can make or break a company, so be sure you get it right.But if you don't have any design experience at all, you can get help from on-demand graphic design services to create a compelling design for your website.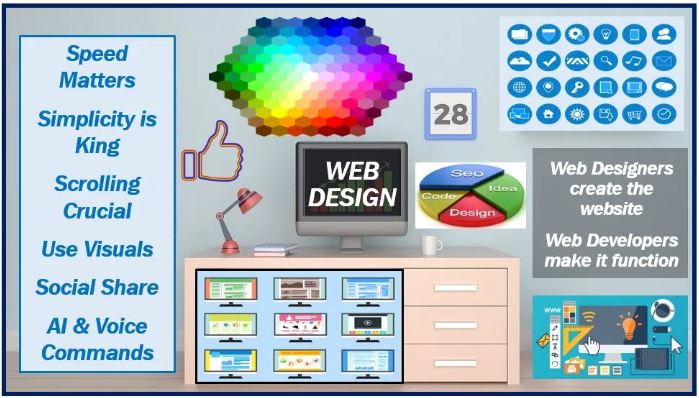 Your domain name will be what people see before they are even on your site, so you should make it easy to spell, as short as possible, and try to make it a .com domain extension. You should also check to see that similar web addresses don't exist already. If you serve local customers, you should make your URL geo-relevant (e.g. "www.plumbercapecod.com"), as this will help with SEO.
Make sure that your site hosting is secure
The host of your website is the company that provides the server and services that it needs to be viewed on the internet. It is very important that you keep security and speed in mind; for example, if you're using a shared server, your site performance could suffer and you could be infected from somebody else's hack. It's advisable to get a cloud-based server or a VPS, which has good security, automatic backups and fast connectivity.
Decide on your architecture
You need to then decide how you want to build your website. Even if you're looking towards an e-commerce platform like Shopify, you might want to talk to somebody skilled in business website design, as it's recommended that you get your site designed by a pro even if it using another platform like WordPress or Shopify. This is because you need to have a lot of SEO tweaks built into the architecture of the site (e.g. code compression, SSL, JS indexing). These are a foundation upon which you can build other SEO efforts (like good quality content).
CMS is your content management system. It's how you manage your digital content. You should have a CMS that allows you to upload content easily and efficiently, and you should have the architecture set up to allow yourself to do that.
CMS is important because, as Bill Gates predicted back in 1996, content makes the modern internet go round – in other words, content is king. You will want to upload high-quality valuable content regularly for your SEO and UX (user experience) efforts and you don't want an awkward CMS to prevent you from doing so.
Understanding the data related to your site is important to understanding your site. You need to make use of vital data to continuously improve your site and make your UX better to bring more value to your visitors.
You can install Google Analytics and Bing Webmaster tools to help you access how many people are visiting your site and its specific pages, as well as what your bounce rate is (this should be as low as possible), the average time spent on your site, backlinks to your page, how long it takes to download your page from the server, and much more valuable SEO and UX information.
---
Interesting related article: "Website design challenges to boost your skills."