Although the Canadian economy added 12,000 jobs (or +0.1%), as more people entered the labor force, its unemployment rate increased by 0.1 of a percentage point to 7.1%, its highest level since February last year, according to Statistics Canada's 'Labour Force Survey, September 2015.'
When studied more carefully, the increase in the number of jobs does not look so good. Full-time employment declined by 62,000, while part-time rose by 74,000. If full-time jobs were given 1 point each and part time ones just ½ each, the jobs total would have shown a decline.
Adjusted to the concepts used in the USA, the Canadian unemployment rate stood at 6% in September, versus 5.1% in the United States.
Source: Statistics Canada
The Toronto Sun quoted Doug Porter, BMO Chief Economist, who described the loss in full-time jobs the 'biggest clunker', as saying:
"This month's Canadian labor force survey saw the bouncing ball land on green, but it was no winner despite a decent headline."
---
---
Some provinces saw gains while others posted losses
Educational services saw total jobs plummet by 51,000, which contributed to Ontario's overall job loss of almost 34,000. Provincially, employment increased in Nova Scotia, Manitoba, Alberta, British Colombia, Saskatchewan and Prince Edward Island, and decline in Labrador, Ontario and Newfoundland.
In the 12 months to September 2015, employment rose by 0.9% (161,000 jobs), with all of the gains in full-time jobs. Over the same 12-month period the total number of hours worked increased by 1.1%.
In September 2015, employment rose among individuals aged 55+, and was little changed for other age groups.
The number of self-employed people rose, while public sector employment fell. There was no statistically important change in the number of private sector workers.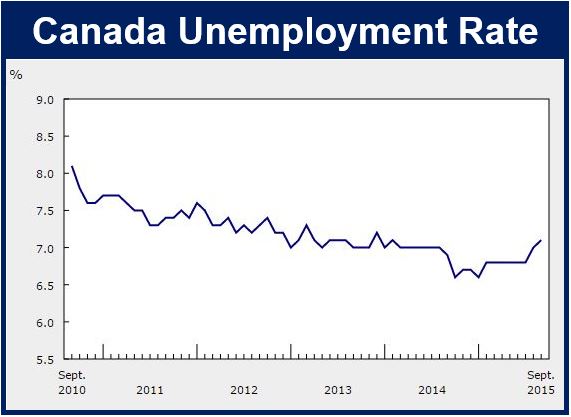 Source: Statistics Canada
Below is a breakdown of unemployment rates across Canada in September (in brackets for August):
Alberta 6.5% (6.0%)
British Columbia 6.3% (6.0%)
Manitoba 5.2% (5.7%)
New Brunswick 8.8% (10.1%)
Newfoundland 13.6% (11.5%)
Nova Scotia 8.9% (8.4%)
Ontario 6.9% (6.8%)
Prince Edward Island 9.3% (10.8%)
Quebec 7.7% (8.0%)
Saskatchewan 5.1% (4.7%)