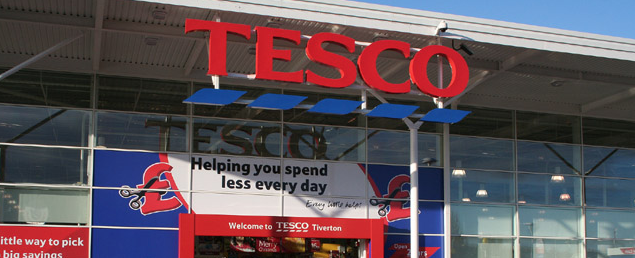 Tesco, the UK's largest supermarket chain, is launching a price-matching scheme called Brand Guarantee that will give consumers instant price cuts on branded goods.
The new scheme is part of the chain's effort to retain and attract new customers amid the current price war.
The company said that the new scheme removes the hassle and inconvenience of price match vouchers.
The cost of branded groceries will be compared to what it would have cost at Asda, Morrisons and Sainsbury's and if it is cheaper elsewhere then the retailer will get the difference deducted off a customer's bill immediately, both in store and online.
Matt Davies, Tesco UK and Ireland CEO said:
"Shoppers tell us price matching vouchers are a pain and don't really help them. We all know it can be stressful and awkward when you have to rummage through your wallet to find a price match voucher.
"That's why we're ensuring that with Brand Guarantee customers will never lose out on their branded shop by getting money off their bill at the till.
"We're working hard to make the shopping trip that little bit easier for customers, with simple, affordable prices you can trust. Brand Guarantee is one more way we are taking the hassle out of a trip to the supermarket or an online shop."
Sarah Willingham, Personal Finance expert commented:
"Price matching has become far too complicated for shoppers. What they want is simplicity. We've all been there – you rush out of the house to do your shopping, you're trying to remember your bags, your list, find your car keys. You get to the supermarket checkout only to realise you've left your voucher on the kitchen table. Worse still, you find a voucher in your wallet only to find it has expired and you've lost out. Instant money off at the checkout means no more hassle and a win for shoppers. Anything that adds value to the consumer with no extra effort required is a great thing."
The company is trying to regain market share that it has lost to the German discount retailers Aldi and Lidl by cutting prices, improving customer service, and offering more products.
Chief executive Dave Lewis has indicated that there will be more price cuts in store before Christmas.