Canada housing starts in October at 195,707 units were marginally lower than September's 197,763, says Canada Mortgage and Housing Corporation (CMHC). The figures represent a six-month moving average of the monthly seasonally adjusted annual rates (SAAR) of housing starts.
Economists had been expecting a rate of about 200,000 units for October, given the recent high building-permit numbers, which usually precede new construction. It was the second decline in three months.
CMHC's Chief Economist Bob Dugan said:
"The decrease in the trend reflects a decline, in October, of starts of multi-unit dwellings, including condominiums. Given the elevated level of condominium units under construction, our expectation is that condominium starts will continue to trend lower over the coming months."
The standalone monthly SAAR for October, without the six-month moving average, was 183,604 units, compared to 197,355 in September.
Housing starts in urban areas fell to 164,683 units in October from September's 177,053.
The number of multiple urban starts stood at 98,673 in October and accounted for most of the overall monthly decline. Single-detached urban starts, on the other hand, increased to 66,010 units.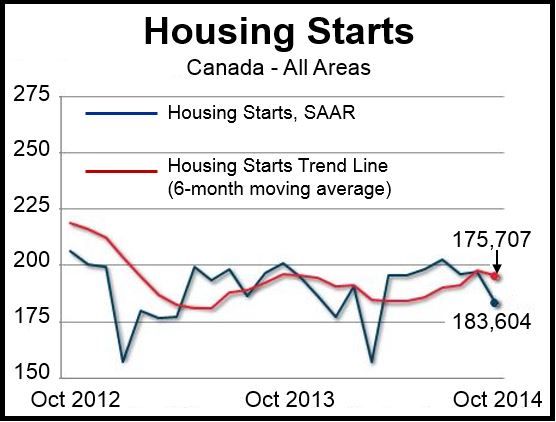 (Source: CMHC)
The number of urban housing starts in October fell in all five regions, with British Columbia posting the steepest fall, followed by (in order) Quebec, Atlantic Canada, the Prairies and Ontario.
Housing starts in Vancouver, a red-hot urban market, cooled by 5,000 (25.7%) to 14,400 units, the city's slowest pace in 20 months. Calgary starts fell 4% to 17,600 units.
Toronto, on the other hand, saw starts rise by 10,500 (70%) in October to 25,600, after falling in September.
Rural starts were estimated to be 18,921 units in October.
Although October's performance was below expectations, the trend over the past six months was still much more than the 180,000 required each month to keep up with the country's population growth.