Canada's unemployment rate rose by 0.1 of a percentage point to 6.6% in November. After two months of steep gains, employment remained virtually the same in November.
Employment was 146,000 up in November 2014 compared to the same month last year, representing an increase of 0.8%. Part-time work rose by 1.9% while full-time employment increased by 0.6%. Over the same period, the total number of hours worked increased by just 0.1%.
During the six-month period ending in November, employment increased by an average of 21,300 each month, compared to a 3,000 monthly gain for the December to May period.
While declining in Saskatchewan and Ontario, employment grew in Quebec, Labrador and Newfoundland.
A smaller number of men aged 55+ years were in work in November. For men and women in other major age groups, there was little change.
Employment fell in the wholesale and retail trades, as well as technical, scientific and professional services. However, more people were in jobs in agriculture and natural resources.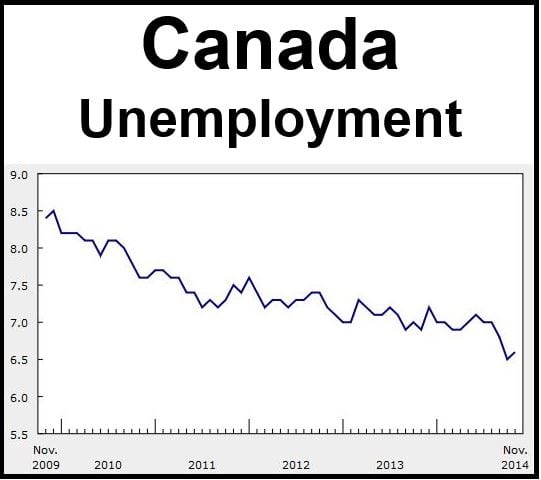 Source: "Labour Force Survey, November 2014," Statistics Canada.
The number of people in employment in the private sector fell in November, while those in the public sector increased slightly.
Ontario saw employment decline by 34,000 in November after two months of increases. The unemployment rate in the province edged up by 0.5 of a percentage point to 7%. The number of people in jobs was 53,000 higher (+0.8%) than in November 2013.
Employment fell by 3,900 in Saskatchewan, which was not enough to change the unemployment rate (3.4%), because there were fewer people in the labor market in November. Saskatchewan continued having the lowest unemployment rate in Canada. Compared to November 2013, there were 15,000 (+2.7%) more people in work.
Employment rose by 20,000 in November in Quebec, after six stagnant months. The unemployment rate, however, stayed the same at 7.6%, as more people joined the labor market. There was no significant change in the number of people in jobs compared to November 2013.
There were 3,100 more people in work in November in Newfoundland and Labrador, pushing down the unemployment rate to 10.7%. Unemployment in the province was little changed compared to one year ago.
In Alberta and British Columbia, employment was little changed in November. Compared to one year ago, the provinces posted gains of 2.2% and 2% respectively.