Canada's trade surplus with the world narrowed sharply in October to $99 million from $307 million in September. Imports rose by 0.5% to $44.8 billion while exports increased by a more moderate 0.1% to $44.9 billion.
While import prices increased by 0.7% in October, volumes declined by -0.2%. Export prices were 1.6% up while volumes fell by -1.5%.
Imports from Canada's largest trading partner, the United States, increased by 1% to $30.3 billion. Imports from the rest of the world, excluding the US, fell by -0.5% to $14.5 billion.
Imports from Germany fell by -11.5%, from the UK by -11.2%, while from China they increased by 3.5%.
Exports to the US grew by 0.7% to $33.9 billion, while exports to the rest of the world fell by -1.8% to $11.1 billion.
Exports to Hong Kong fell by -50% to $268 million, after increasing by $349 million in September. Exports to Germany were also sharply down (-29%). However, exports to the UK were 10.2% up.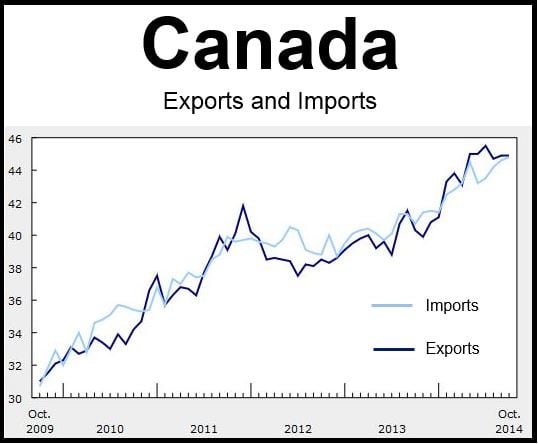 "Canadian international merchandise trade, October 2014," Statistics Canada.
Consequently, Canada's trade surplus with the US shrank from $3.6 billion in September to $3.5 billion in October. With other countries (excluding the US), Canada's trade deficit grew to $3.4 billion in October from $3.3 billion in September.
Consumer goods imports increased by 3.1% to $9.2 billion in October. Aircraft and other transportation equipment imports were 12.4% up in October, reaching a $1.7 billion record high.
Energy imports fell by -10.1% to $2.2 billion as volumes declined by -6.1% and prices by -4.3%. The main contributors to the decline in energy imports were crude bitumen (-18.5%) and refined petroleum energy products (-10.5%).
Exports of industrial machinery, equipment and parts increased by 8% to $2.6 billion, the highest value in six years. The monthly increase was led by miscellaneous parts of machinery and equipment, which increased by 13.7% to $815 million.
Exports of farm, fishing and intermediate food products fell by -8.6% to $2.3 billion.